Simba
Djuma to remain with Simba for another season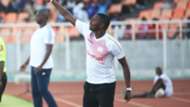 Simba Assistant coach Masoud Djumaa has hinted that he will remain at the club for at least another season.
The Burundian was one of the names which was mentioned to replace George Lwandamina at Yanga before the Jangwani club decided to go for Congolese Mwinyi Zahera.
"I have decided to stay here for at least another season, because within a very short period I have accomplished a lot of good things for the club. I would like to announce that I'm still the team's assistant coach until 2019" said Djumaa.
Djuma joined Simba prior to this season were he signed a two years deal to be the assistant to then Joseph Omog and now Pierre Lechantre.