Chelsea
Diego Costa's mini goal drought proves just how crucial he is to Chelsea's title push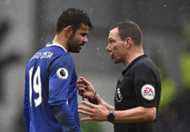 ---
COMMENT
---
Diego Costa hasn't scored in his last three Premier League appearances for Chelsea, which is his longest goal drought of the season and he will need to regain his cutting edge with the title yet to be won. 
Chelsea picked up a point on a tricky away day at Turf Moor, but dominated much of the game as they drew 1-1 with Pedro's counter-attack goal being cancelled out by Robbie Brady's free-kick in the first half. 
Costa managed only two shots all game, which were both blocked, highlighting how he has been slightly less devastating in February as he has been for the rest of the season. 
He still remains Chelsea's most irreplaceable player and he is unlikely to be dropped by Antonio Conte unless Michy Batshuayi can really show something more in his substitute and FA Cup appearances for the club. 
His link up with Eden Hazard and Pedro was good, but he was unable to carve many opportunities for himself and he failed to be a protagonist as the snow fell down on a freezing cold afternoon in Lancashire.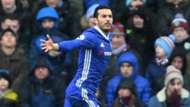 The Spain international has been leading the goalscoring charts all season, but he has recently been overtaken by both Alexis Sanchez (who has 17 goals) and Romelu Lukaku (who has 16 goals). Meanwhile, Lukaku continues to be a Chelsea target for the summer. 
No one is saying Costa is finished or that he has been a letdown, but Conte needs to find a way to rekindle the fire in his striker's heart with Manchester City, Tottenham, Arsenal, Manchester United and Liverpool all watching on with intent to catch them up. 
Chelsea's free-kick record over
The title race is never easy and big characters like Costa are required to step up in the toughest of circumstances. Costa has been the man to win his side more points than any other player, but his very small goal drought has been now running for 329 minutes and these runs can be tough on any striker. 
Costa contributes more than just goals and his sixth minute through ball to Hazard showed his talent in terms of holding up the play and picking out the killer ball. He has often had to be patient in games with teams sitting back against a powerful Chelsea side, but he only got two shots away from his three chances. 
It is hard to say whether the speculation around his future has effected his performances or whether it is just a natural baron spell for a striker who carries the weight of his club's hopes.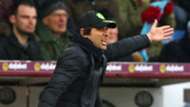 People will begin to talk about Tianjin Quanjian's £400,000-per-week contract offer to the striker as being a reason behind his recent dip in goals - and whether true or not - Costa will have to remain focused on playing himself back into goalscoring form. 
As Conte always says, hard-work is the only option for him to regain the very best of his form, but in the meantime, it may be down to the likes of Hazard and Pedro to keep chipping in. 
Costa's first Premier League goal came against Burnley in August 2014 and since then, only Harry Kane and Sergio Aguero have scored more times than he has in the top flight, so his importance for his club can't be denied. He remains Chelsea's go-to-guy after Didier Drogba departed the club. 
He played well versus Arsenal and slightly less so against Burnley, so no need to panic, but Chelsea could do with finding a way for Costa to get himself back amongst the goals.