Nigeria
Dalung refuses to back Amaju Pinnick as NFF president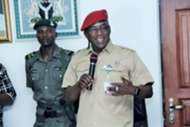 Nigeria's sports minister Solomon Dalung has refused to recognise Amaju Pinnick as Nigeria Football Federation president and has reiterated his stands with the Supreme Court's ruling.
A recurring leadership tussle since 2014 between Pinnick and Chris Giwa led to Fifa ordering the federal government to confirm the former as the president or risk suspension on August 20.
Howeve, FIFA shelved its plan to suspend the nation from its activities following the presidency intervention, having accepted Pinnick's choice as the legitimate NFF boss.
Despite welcoming vice president Yemi Osinbajo's intervention, Dalung is adamant about his resolve to respect the rule of law, which threw up Giwa as NFF president against public opinion.
"This crisis cannot be solved with a temporary measure or scratched on the surface," Dalung said in a statement on Tuesday.
"The intervention of the Vice President should not be viewed as different from an attempt to abate an escalating situation.
"As a barrister and solicitor of the Supreme Court of Nigeria, who took an oath of office to protect and defend the constitution of the Federal Republic of Nigeria, I will prefer to stand with the Rule of Law instead of the opinion of men."
He further appealed for calm in the nation's football family, while backing his ministerial reconciliation team in resolving the long-standing and recurring leadership crisis.
"I want to appeal to Nigerians to remain calm and give support to the NFF Elders Stakeholders Reconciliation Committee which is made up of reputable past presidents and general secretaries of the NFF with vast knowledge, experience and competence to resolve this crisis once and for all," he continued.
"We are a constitutional democracy and the doctrine of separation of powers is the foundation of democratic experience, therefore, the Rule of Law is the only mechanism that guarantees liberty and freedom of citizens.
"This administration was elected on the change mantra meaning that impunity has no accommodation anywhere, so Nigerians must learn to believe and practice the doctrine of the Rule of Law. I believe we shall overcome this if we remain within the confines and dictates of the laws of our country."