Brazil
Dada hoping for a fit Neymar at the World Cup: He is 50% of the Brazil team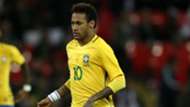 One of the most charismatic figures of the side that won the 1970 World Cup, Dada Maravilha is accompanying the Brazil national team in its quest for glory in Russia. Having swapped his boots for a microphone, he is now working as a commentator and following the steps of the Selecao on the way to the upcoming finals. 
Dada was there for the first part of Brazil's preparations in Granja Comary and is very impressed with coach Tite, who made a point of praising him and 'sweetening' the world champion.
"I must admit that I am delighted, first of all because of the humility of Tite, who called on Gerson, that monster of a player, to chat, he called on Zagallo, the most successful coach in Brazilian history, and obviously he talked about football, what the 1970 team achieved, why it is considered the best team on earth. He is on the right track, the two training sessions that I saw were full of quick touches, I liked it a lot," said Dada, who as always was with a smile on his face.

(Foto: Lucas Figueiredo / CBF / Divulgação)
The fifth highest scorer in Brazilian football history, Dada knows what hitting the back of the net means; and when it came to choosing Brazil's starting No. 9 he had no hesitation in singling out Gabriel Jesus, although he also had high praise for Roberto Firmino. 
"The two are excellent but right now Jesus deserves it, but if Jesus slips up and Firmino comes in and shines it is Brazil that wins, they have two brilliant goal-scorers," he added. 
Dada also spoke about Neymar, who has been out of the game since February due to injury and hopes to come back prior to the World Cup. The retired champion believes the No.10 is key to Brazil's chances, and that he must take on the mantle of Tostao, moving the ball around quickly to escape defenders' attentions. 
"I saw him training, I am excited, at certain points he showed a few bruises so I am quite scared, everyone knows the problem is his right foot, one hit to his right foot could take him out of the game. I think he has to play like Tostao used to, moving quickly, bringing his team-mates in because he is right on the limit, he is extraordinary and nobody goes in on him to take the ball, they go in to hit him and hurt him. He has to move the ball along quickly. Brazil depend a lot on Neymar, he is 50 per cent of the team." 
Dada had the honour of playing with some of Brazil's greatest-ever players in 1970, while he has also watched closely those who have followed. Pele and Zico are at the top of his all-time list, but he also has a soft spot for the likes of Tostao and Romario. 
"Pele and Zico, those two were the greatest, the best I have ever seen. I am a fan of Tostao, who for me is one of the best after Pele and Zico, but I have to talk about Romario too, he was excellent for me, Ronaldo was also very good but I'll stick with Romario in attack."

(Foto: Getty Images)
And when asked to compare the 1970 side with the fabled team of 1982, Dada did not hesitate. 
"That question is easy to answer, I could measure the two teams up but football is about who wins, that is a concept you cannot argue with. So for that reason 1970 was the greatest," he explained. 
He is also confident that after falling away on home soil four years ago, Brazil have what it takes to win a record sixth World Cup in Russia.
"I am excited, Tite took over the Selecao at its lowest ebb and brought it back, he has stimulated the players and Brazil are considered favourites. For me the outright favourite is Germany, then Brazil, but there is nothing stopping Brazil from being champions.
"Tite has shown he is a clever guy, it's not just his intelligence I like, but also his humility in acknowledging he has people close to him that can help. Gerson, Zagallo, the World Cup's biggest winner. So I want to thank them for accepting Tite's invitation and to thank him for recognising he could learn with them. We are always learning."