A-League
'Crazy' to criticise Sydney for losing to Liverpool - Klopp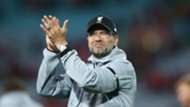 Liverpool manager Jurgen Klopp has defended Sydney FC's performance in Wednesday's friendly, claiming that Sky Blues coach Graham Arnold only had a "second team" at his disposal.
Klopp's men triumphed 3-0 at ANZ Stadium in the end-of-season friendly, with Daniel Sturridge, Alberto Moreno and Roberto Firmino all scoring before half-time.
Liverpool cruise past Sydney FC
With Bernie Ibini and Filip Holosko having already left the club and Milos Ninkovic, Jordy Buijs and Milos Dimitrijevic unavailable, Arnold started with eight players that also began the A-League grand final a fortnight ago.
David Carney and Seb Ryall also started against the Reds having come on in the domestic decider, while Matt Simon was the only other senior player available.
Teenager George Blackwood, who has played less than 20 A-League matches, started on the right wing, while seven players aged 21 or younger came off the bench for Sydney.
"We have a better football team than Sydney FC. That should not be a surprise," Klopp told reporters afterwards.
"We would have to make a lot of mistakes [to lose].
"We are not here because of this [the result]. We come here to show ourselves, the club - Liverpool FC. We are really thankful Sydney FC gave us this opportunity two weeks after the end of the [A-League] season.
"So nobody should talk about them. They were missing a lot of players. I think six, seven players were not involved because they were already at home.
"Sydney FC - the second team - should be better than Liverpool? That's crazy."
WATCH: Liverpool, Sydney 'miles apart' - Brosque
Klopp started with three players aged 20 or younger in Trent Alexander-Arnold, Harry Wilson and Ben Woodburn, while retired stars Steven Gerrard and Jamie Carragher were also involved from the opening whistle before coming off in the second half.