African All Stars
Copa Coca-Cola Port Harcourt preview: Teams scramble for points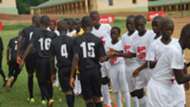 Cross Rivers vs Akwa Ibom 
Government secondary school, Cross Rivers trade tackles with unbeaten Fortune High School, Akwa Ibom in their third match at the Port Harcourt region of the ongoing Copa Coca Cola tournament, as the race for the national final looks to be decided on the final day. 
The boys from Cross Rivers are yet to win any of their first two games - losing 2-0 to Enugu in the first game and conceded five goals without scoring one in the second game against a five-star Bayelsa boys. 
But will hope they can register at least a win for themselves even as they seem to be out of the race for the national finals ticket with zero point after two games. 
Fortune High School unfortunately failed to build on their four-star performance in their first game, as they dropped two points in their second encounter, and they will hope they can seal land the tickets for the finals on the last day.

Imo vs Bayelsa
Owerri City School, Imo has also been impressive in their last two games, grabbing four points from their last two games and they seem like one of the favourites to land the national finals ticket, if they continue in the might they started from on match day two. 
The boys from Imo weren't in action on match day one, but fired on all cylinder as they held Akwa Ibom to a 1-1 draw, and later spanked Cross Rivers 5-0 in the second game to rise to the summit of the table with four points - same with Akwa Ibom.  
With two more wins and a lot of goals, they can be guaranteed a place in Lagos when the national finals kicks off soon. 
Meanwhile, Bayelsa's resurgence after their opening day defeat was impressive as they stopped New Layout from picking a point from them on match day two, and if they continue this was, and just maybe other teams drop points, their chance of playing in Lagos might go up. 
As at match day two, Winners Academy have three points after two games.

Enugu vs Imo
New Layout Secondary School, Enugu got their campaign to the national finals of the 2017 Copa Coca-Cola competition to a winning start, but failed to maintain the momentum as they bowed to the boys from Bayelsa in their second game. 
With the above result, they must win their remaining two games and hope that other teams drop points, else they can kiss the ticket to Lagos goodbye and wait for the 2018 edition next year. 
The Coal city boys must be wary of Henry Williams, who is the leading goal scorer in this region with five goals from two games. 
Meanwhile, the boys from Owerri will be gunning for their second straight win at the Modern Secondary School, Port Harcourt after sharing spoils in their first game, to put them in a good position to clinch the ticket to the national finals on the last day.

Bayelsa vs Cross Rivers 
The last game here at the Port Harcourt region of the ongoing Copa Coca-Cola Regionals will be between Bayelsa and Cross Rivers.  
For the boys Winners Academy, they will need to replicate their performance against Enugu on Thursday to move them among the title contenders, but must hope the remaining teams drop point to go through to the national finals. 
Their staring was poor, but they picked up in their second game with a slim victory over New Layout from Enugu, Meanwhile, the Government Secondary School squandered their chances when they failed to win any of their first two games, but they will be on a mission to frustrate other team's aim of getting to the promise land (national finals) in Lagos. ‎