African All Stars
Copa Coca-Cola Ibadan Regionals Wrap: Kwara qualify for national finals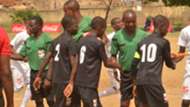 Ogun 1-0 Lagos
Keme Balogun Junior College's hopes of qualification were very slim as they only had one point from their two games. This officially made them the weakest team and this gave Nawair-ud-deen Junior High School of Ogun State high hopes as they had beaten Ekiti 2-1 on Thursday afternoon.
Ogun were dominant in the first half with lots of chances. A free kick first went wide before Wasiu Bashir riffled in a shot that was cleared by Lagos captain Ayodeji Babatunde. Bashir was in the thick of things again as he dribbled past three Lagos players only to be miskick.
Bashir again tired his luck from long range but it went wide. Lagos remained resilient, marking their opponents tightly, particularly Joseph Daniel, who did a neat defensive job that got the applause of the fans despite his short stature.
The game would end goalless at the break but Ogun drew first blood when substitute Victor Onabanjo made a mazy run into the box, ghosting past the Lagos defence before slotting it past Olabanji Adeleye.
It ended 1-0 to Ogun but it wasn't enough to make it through the Ibadan regionals.
Kwara 2-0 Ondo
Muslim Community Secondary School were favourites to qualify for the national finals thanks to their day two form that saw them win all their matches. A draw against Ondo Boys High School would have been enough for them thanks to their superior goal difference but their counterparts dominated early on.
Ondo started positively with Olalekan Akinfenwa whipping in a free kick that hit the crossbar. Kwara did have the chance to take the lead by Ondo goalie Emmanuel Augustin comfortably saved. Ondo's Tobi Kareem produced some neat skills that sent the Kwara defence to the cleaners but they readjusted and cleared.
Goalless it was at halftime but Kwara were gifted a penalty after the break which Fatai Ganiyu converted. Ondo had the chance to equalise from Akeem Salawudeen but his free kick went wide. It became 2-0 for Kwara through Lateef Muritala.
At the point the game relaxed and the 2-0 win sealed the spot for Muslim Community Secondary School in the national finals.
Kwara 1-0 Ekiti
With Muslim Community Secondary School sealing their place in the national finals of the 2017 Copa Coca-Cola, the game against Christ School, Ekiti, was just a mere formality.
Kwara countered very early but the pace of Friday David was too much as he could not balance well to shoot. The Ibadan regional winners would eventually take the lead through Ibrahim Abubakar who fired a shot from outside the box that beat Ekiti keeper Damilola Adamolekun
Ekiti had opportunities to equalise from setpieces but Shola Ogunlana and Dotun Ogunwole were not successful in converting them.
Kwara's Ayanfe Olarinde went past the Ekiti backline with only the goalie to beat but Adamolekun was alert and saved with his feet.
It ended 1-0 to Kwara meaning that they head back joyfully to their base with four wins from four games.
Ondo 2-0 Lagos
This was the last game of the day with nothing but pride to play for. Ondo Boys High School took the lead in the first half thanks to Victor Ayantunji.
Keme Balogun Junior College of Lagos had the chance to equalise but John Ibikunle's shot hit the woodwork with the keeper clearly beaten.
Ondo's Peter Michael would make it 2-0, blasting a shot into the back of the net.
2-0 was how it ended, drawing the curtain on what was an exciting and thrilling contest from the entire participants in Ibadan.