Chelsea
'I had never heard of Tony Pulis' - Conte looking forward to first meeting with West Brom boss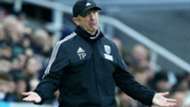 Antonio Conte admits he had never heard of Tony Pulis before coming the Premier League, as the pair prepare to do battle for the first time in Sunday's early kick off at Stamford Bridge. 
Chelsea have struggled against West Brom in recent seasons, but will hope to continue their eight game winning run in the league, while West Brom find themselves competing for places in Europe after a run of four games without a defeat. 
Scottish club honours dead fan
The Blues boss has never faced Pulis before and had not heard of him before coming to the Premier League after leaving his last job as the Italy national team's head coach. 
"Had I heard of him? I must be honest, no," Conte said in a press conference at Cobham Training Centre. "I know now that he is a very good manager who has never been relegated.
"This shows that he is a very good manager. We must be patient because West Brom are difficult. Very good at set-pieces with very good players. We have to be patient, but this team will be very tough.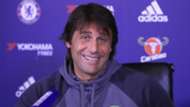 "They are playing very well in this championship. We must pay great attention. It will be a physical match because we are playing a great team. It is important to go out onto the pitch with the same will to win [as we have had in recent weeks]."