Chelsea
Conte: David Luiz not set for January transfer, he's just injured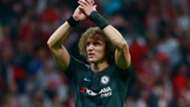 Antonio Conte is growing frustrated with rumours that suggest David Luiz will make a January exit after a row with him in the past month, claiming the defender is just injured.
Luiz was dropped by Conte for Chelsea's match with Manchester United back in November following a poor defensive display in the 3-0 defeat to Roma. He has since sustained an inflammation of his right knee which is a reoccurrence of a problem that he suffered from last season.
The 30-year-old has done a light session alone on the training pitch, but he has mostly been limited to the pool and treatment room in recent weeks. Conte is frustrated with suggestions that he is sitting out training due to a falling out with the manager and is keen to put these rumours to bed.
"To stop this, I think it's right to call the doctor and to have a conference with the doctor," Conte told reporters. "I think this is a good idea. I understand that someone is thinking that I'm not telling the truth.
"I'm disappointed about this, but I can understand it. I'm disappointed because I like to tell you the truth at every moment. I'd like to tell you a bad truth rather than a good lie.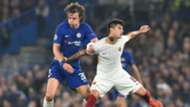 "I think we can call the doctor and organise a conference with the doctor for him to explain the medical situation of all my players and, in this way, I can avoid having to answer this question.
"Avoid the creation of this atmosphere of 'it's not true what he's telling us'. I am disappointed about this, but I will try to solve the situation."
With the Premier League finishing slightly earlier this season due to the World Cup, the upcoming Christmas period is busier than usual for clubs, forcing Conte to rotate his squad more than he would like.
Despite some players, such as Luiz, not featuring regularly so far this season, Conte has called upon his squad to maintain professionalism, claiming that the Blues players have a privileged life at Stamford Bridge.
"I think that every player must be very happy not to play for Chelsea, but to stay in the squad for Chelsea," Conte added. "It means you stay in a big team, in a great team. It's normal that, when you're in a great team, there is a lot of competition.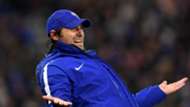 "The coach can decide only for 11 players. This is normal, this is normal. I don't like when you ask me if one player is not happy or if I have to find something to make him happy because I think we must be happy because we are living this atmosphere. We are doing a fantastic job.
"We earn a lot of money. We must be very, very, very happy whether they play or not play. I understand that every player wants to play, this is normal. But we must be very, very, 1,000 times happy to have this job and this life. Me and my family, and the players and their families.
"The coach is an educator. If someone doesn't understand this, I have to try – with good or bad ways – to bring him in the right way."
Conte has had problems with his players in the past at Chelsea, with Diego Costa the most notable as he forced a transfer to Atletico Madrid. The Blues boss admits that it is not always easy to control players in the modern game and believes that the parents of young players are part of the problem.
"It's very important, the family education," Conte continued. "If you have parents who give you a great education, for me it's more simple. When they arrive with the first-team or in the academy, they have great respect for the coach, the job, the work.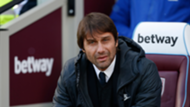 "And they respect every single person. When there is not a great family education, I'm in trouble. The coach of the young players is in trouble. Then arrives a player without education, and then we are in trouble."
Chelsea face Southampton at 15:00 GMT in the Premier League on Saturday, December 16 at Stamford Bridge.