World Cup
Congo draw costly as Ghana fall on Fifa Ranking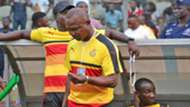 Ghana have fallen by two places in the latest Fifa World Ranking released on Thursday.
September's ranking sees Ghana on the 52nd position with an accompanying decrease in total accumulated points from 665 to 646.
Placed 43rd in September last year, Ghana now find themselves between Korea Republic (51) and Saudi Arabia (53) on the ladder.
On continental level, however, the Black Stars have moved up by a place to the eighth position, above Cote d'Ivoire (54) and Morocco (56) in Africa's top 10.
Egypt (30) still lead the pack, while Tunisia (31), Senegal (33), Congo DR (42), Nigeria (44), Cameroon (45) and Burkina Faso (49) make up the top seven in that order.
Back on the global stage, Germany have reclaimed the top spot from Brazil after just one month,while Portugal, Argentina and Belgium follow the top two in that order.
Poland, Switzerland, France, Chile and Colombia, in that sequence, complete the top 10.
Ghana's highest ever performance since the ranking's introduction in August 1993 remains a 14th place in February 2008, while their worst placement was an 89th position in June 2004.
The Black Stars' last main assignments were in 2018 World Cup qualifying earlier this month.
Kwesi Appiah's charges drew goalless with Congo in Kumasi before picking up a 5-1 win in the return leg four days later.
Ghana's team B are currently playing at the Wafu Cup of Nations but results of the tournament have no bearing on the ranking as the games do not constitute Fifa's international 'A" matches.
The team A return to action on October 7 when they face Uganda in the penultimate match of the World Cup qualifiers.
The next edition of the ranking will be published on October 16.