Manchester City
Manchester City deserve the treble - but they still have to earn it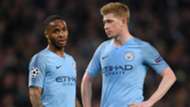 It tells you something about the standards upheld by Pep Guardiola and Manchester City that winning a domestic treble this season might well be seen as a little underwhelming.
That's the situation – having been eliminated by Tottenham Hotspur from the Champions League – and the same opposition come to the Etihad for a decisive Premier League encounter on Saturday lunchtime.
A unique quadruple had been spoken about so often that it appeared at one stage inevitable. Guardiola, for his part, made the right noises about taking one game at a time but there is little doubt that he and his staff had genuine expectations of winning all four trophies.
"It's just life," Pep said on Friday. "It's football. [What's] important is how you behave. Football, life, they aren't easy. You have to fight and compete. Now, it's [about] how we react.
"We have to accept these sorts of situations, but looking behind won't help us move forwards. These kinds of players have an opportunity to show they can do that.
"They will get back what they deserve. One day, maybe we will be in the same position, and maybe we will be more fortunate or precise – or whatever – to go through."
The Carabao Cup is in the bag and it goes without saying it's the least valuable. The FA Cup should follow, with Watford awaiting City at Wembley on May 18.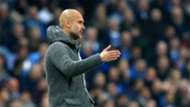 Hopes of the Champions League are in the dust, not so much because of what happened at the Etihad on Wednesday, but due to Guardiola's erroneous decision to rest Kevin De Bruyne in the first leg at Spurs.
That night, Guardiola and City strayed from their natural game, opting for two screening midfielders to stymie Spurs counters. It backfired. City conceded anyway and a reduced creative department was unable to conjure a leveller.
There was talk that Guardiola had one eye on the league game at Crystal Palace – which was won – in making his selections for that first Spurs showdown. It demonstrated some of the difficulties City were facing due to their deep progress in so many competitions.
Scheduling rest for players is a tricky task, although given De Bruyne has missed around two thirds of the season, the Belgian could probably have been excluded from the rotation game.
City – De Bruyne included – did everything they had to do on Wednesday night. They created multiple chances and – crucially – took them. There was no question who the better side were and the late overturned Raheem Sterling goal was a kick to the stomach City didn't deserve.
The mistakes Aymeric Laporte made were uncharacteristic and allowed two goals for Son Heung-min but had City got a couple of their own in London, they would have been only a footnote.
There is little that Guardiola would do differently if he had the opportunity to live out Wednesday night all over again. Fates were decided by that lack of an away goal in the first leg.
City have no time to dwell on their disappointments, though. The best way to clear their heads is to inflict a defeat on Spurs on Saturday and continue to march towards a second consecutive title.
Glory remains in their own hands no matter how hard Liverpool are pushing.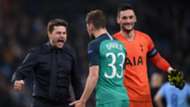 Win, lose or draw on Saturday, Spurs should be reasonably assured of a Champions League place through their league position come the end of the season. Plus, there is still a chance for them to win it, with Ajax facing them in the semis.
Mauricio Pochettino – in his team selection on Wednesday – left everything out there. Already without Harry Kane, Harry Winks and more, he lost Erik Lamela in the warm-up and Moussa Sissoko in the first half.
It would be no surprise to see some key Spurs players rested on Easter Saturday, given their exertions and late arrival back to London on Wednesday night.
City, then, will be strong favourites to jump back on top. They have more to play for and the hard work is done for Tottenham.
Liverpool will go to Cardiff a day later and should win. Neil Warnock's side threw themselves a lifeline by beating Brighton in midweek but their mini-revival will be curtailed by a Liverpool side with their eyes very much on a first Premier League title.
Whatever happens, though, Guardiola mustn't come to view the league as a consolation prize. Random moments can decide two-legged knockout ties in Europe, especially given the away-goals rule and the use of the Video Assistant Referee.
A more accurate measurement of a team's methods and long-term health comes league competition, where the best usually will out.
There is no shame in going out in the quarter-finals, even if it's the third time in succession that Guardiola has failed to reach the semis with City, after spending half a billion pounds since his arrival.
A domestic treble would be what City deserve but there can be no let up. City have to earn it. The recovery starts here.