David Luiz
Chelsea vs Spurs is a battle of ugly guys vs monsters - David Luiz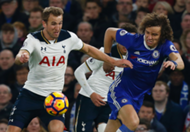 David Luiz is ready for a battle against 'the most physical team' in England when Chelsea face Tottenham in the FA Cup semi-final on Saturday. 
Greed revealed as BVB bus bomb motive
Chelsea go into the game having lost at Manchester United last weekend, while Tottenham beat Bournemouth 4-0 to close the gap at the top of the Premier League to four points. 
Ahead of the Wembley showdown, Luiz does not believe Chelsea's rivalry with Spurs is toxic, but admits that Mauricio Pochettino has a team of "monsters" to work with. 
"For me, they are an amazing team with an amazing coach," said Luiz. "I think it is the best physical team in the league. All the XI guys are monsters. I love that team. It will be a difficult game for us.
"We need to be ready to play against one of the best teams in this league. It will be a nice game because it is a semi-final. Chelsea also has some monsters, some ugly guys like a monster. Some guys who play like a monster, like [N'Golo] Kante.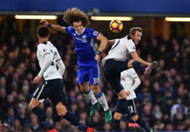 "Different kinds of monster. No [I joke], it will be a fantastic game. Two teams in amazing shape. It will be top quality to watch and we have to play top quality to win."
Chelsea's rivalry with Tottenham turned toxic last season when both clubs were charged by the FA for failing to control their players in a match that was dubbed "the battle of Stamford Bridge".
'Rooney has reached the end at Man Utd'
The 2-2 draw in that game officially crowned Leicester as champions that day, but Luiz thinks that the rivalry has gone from a tense one to a positive one this season, as the club's players put aside their previous issues. 
"This is history, this is the magic of football. I think that rivalry is the nice part of football," Luiz added. "If you look at it in a positive way, you have positive eyes and not look at it in a bad way.
"Is rivalry about fighting? No it is not, it is about two amazing teams want to win and to win trophies in the best league in the world and get into the Champions League every year. I have the opportunity to be there.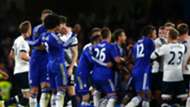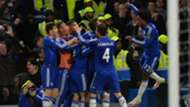 "It is good to be there in the semi-final of this amazing competition. I had the opportunity to win it one time. Let's go step by step, it will be a difficult game against Tottenham. Let's rest a bit more and prepare for this game a bit more."
Spurs have only won one of their last eight games at Wembley after using the stadium as a home for their Champions League and Europa League games this season.  
Luiz offered a simple response to whether Chelsea could continue to heap the misery on Pochettino's side at the England national team stadium, saying: "I hope they will continue [to have problems] in this way."