Calcutta Premier Division A
CFL 2018: Clinical second-half performance keeps Mohun Bagan's title challenge on track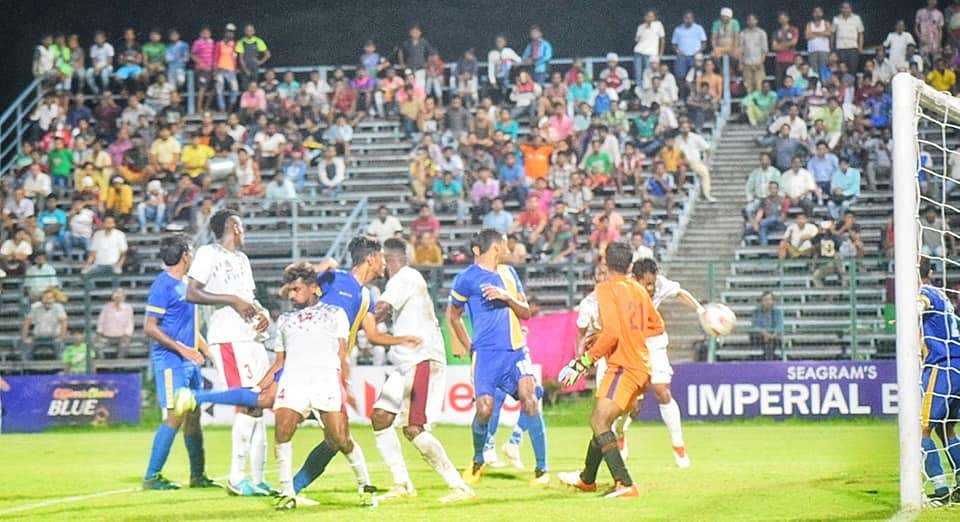 It was a tale of two contrasting halves. Mohun Bagan were clearly reeling under the hangover of a lacklustre second-half performance in the Kolkata derby in the opening 45 minutes against FCI. They looked jaded and were lacking sharpness in the attacking third.
After an exhaustive encounter against East Bengal, Britto PM looked out of gas on the wings. Whereas on the opposite flank, Azharuddin Mallick resembled a clueless wanderer. FCI were playing a five-man defence with two pivots operating as defensive screeners which diffused any offensive intent before it could threaten Dhanjoy Adhikari under the sticks.
Bagan's attacking forays looked haphazard and devoid of any purpose. Arijit Bagui misplaced his crosses into the box whereas Abhishek Ambekar was hardly allowed the space to overlap down the left flank. FCI's two fullbacks Amit Chakraborty and Biswajit Mondal dispensed their duties with perfection as they were able to thwart Bagan's wing play - the primary attacking avenue for Sankarlal Chakraborty.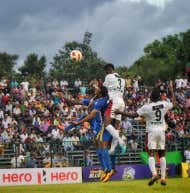 When Bagan finally got the opportunity to open the scoring around the half-hour mark, Henry Kisekka's profligacy left Chakraborty frustrated.
Dipanda's controversial goal at the stroke of half-time provided Mariners the belief and vigour to come back strongly in the second-half and score four more goals.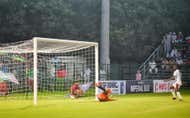 Credit to Chakraborty as well for his excellent match reading. He made a double change at the break and Mohun Bagan were up and running. He replaced both the wingers and brought on an in-form Pintu Mahata and set-piece specialist Tirthankar Sarkar. While Mahata became the live-wire on the left flank, Sarkar started delivering inch-perfect crosses from set-pieces which compounded the pressure on FCI's defence.
Sourav Das and Shilton D'Silva started to find pockets of space in midfield which allowed both Ambekar and Bagui to link up better with the wingers. The complexity of the game had changed and Mohun Bagan's second goal was only a matter of when and not if.
Within 17 minutes of resumption, the Maroon and Greens breached FCI's defence once again which marked the opening of the floodgates.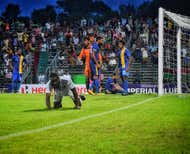 FCI's gritty first-half resistance started vanishing into thin air with each passing minute. Instead of looking to hit on the counter they became more concerned to leave the pitch with a respectable scoreline which further pushed them into their defensive cocoon and in turn, helped Bagan establish their dominance.
Although Kisekka had left his scoring boots at home, the Ugandan showed exemplary vision to slice open FCI's defence to set up Bagan's third. The through ball bisected two blue shirts and fell for Mahata who served a cross on a platter for Dipanda to bury into the net. The Cameroonian completed his hat-trick and also reached double figures in the scoring chart of CFL.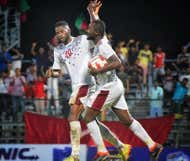 Sarkar's impeccable left-foot was the architect behind the last two goals as both were scored from set-pieces. Sarkar has been playing scintillating football this season and was one of the mainstays behind Bengal's eye-grabbing performance in the Santosh Trophy. Like Mahata, Sarkar has also graduated from Bagan's youth ranks and the Sodpur-born midfielder can be a trusted lieutenant for Sankarlal in the absence of veteran midfielder Mehtab Hossain, who remains sidelined with an arm injury.
After scoring five, Mohun Bagan have thrown down the gauntlet to arch-rivals East Bengal. The century-old club has currently scored seven more goals than their local rivals having played one more match. East Bengal have a mountain to climb when they face Peerless on Thursday as the defending champions will be looking to bump the score-line to remain hot on Bagan's tail.