Puyol
Carles Puyol and Michel Salgado bring El Clasico to Dubai in duFC finals
Salper Ali and Arian Hasanyan
Over 10,000 spectators stopped by Dubai Mall throughout Saturday where the du Football Champions were crowned for the 2016/2017 season. 
The nation's final eight teams gave it their all in a day that witnessed the highest level of competition, culminating duFC's UAE Schools and Street's Cups six-month journey that brought together over 7,000 players hailing from the UAE's four corners with over 3,864 goals and 1,060 games played in the nation's best venues in Abu Dhabi, Al Ain, Dubai and Sharjah.
WATCH: A ridiculous dive from Adelaide United star
One of the highlights of the day was an exhibition match, recreating the famed Clasico face-off between former Barcelona captain Carles Puyol playing with half the du La Liga HPC team and former Real Madrid captain Michel Salgado playing with the other half. Puyol's team beat Salgado's 2-0. 
The success of duFC's second season reflects the partnership with La Liga, which has already produced one player scouted for Malaga FC. The players are being trained at the du La Liga HPC by La Liga coaches and currently lead the UAE FA's official Academy League table.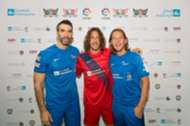 Commenting on his participation in the finals, Puyol said, "It's great to be here in the UAE with the next generation of footballers! duFC is a platform that every young football talent dreams of, offering them the opportunity to be scouted - I look forward to the next La Liga star emerging from the UAE."
Arsenal players couldn't cope with Wenger exit announcement - Keown
The Winners
In the UAE Girls Challenge, Go Pro Sports beat Adastra 6-2 in an intense match with a repeated barrage of attempts on goals.
In the UAE Streets Cup, Abu Dhabi's Al 7osani beat Dubai's Ultimate XI 5-0, displaying an overpowering presence from the starting whistle.
In the Boys U14, Hatta's Rashed Bin Saeed School beat Abu Dhabi's British School Khubairat 8-2, becoming the first public school to win the UAE Schools Cup.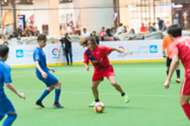 And the most exciting match of the day was the Boys U16 Final between Dubai's Mawakeb Garhoud and Sharjah's Al Ma'arifa which ended in a 3-3 draw, forcing the teams to go to penalties ending in a victory with a 5-4 final score for Al Mawakeb.
The winning Boys U16 and BU14 team will earn a trip of a lifetime to Spain to watch a FC Barcelona match. The UAE Girls Challenge winner will travel to the UK to watch a Manchester United match.
Video by: Salper Ali and Arian Hasanyan