United States
Bruce Arena 'very supportive' of U.S. Soccer national anthem policy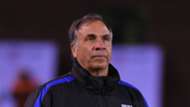 U.S. men's national team coach Bruce Arena says he is "very supportive" of U.S. Soccer's policy that all players must stand during the anthem.
The American federation announced last weekend it had implemented a policy that required players to stand during the anthem. "All persons representing a Federation national team shall stand respectfully during the playing of national anthems at any event in which the Federation is represented," the regulation reads.
WATCH: Atlanta smashes Minnesota in the snow
Speaking at halftime of the LA Galaxy's match against the Portland Timbers on Sunday, Arena said he expects his players to follow the procedure.
"I'm very supportive of that policy. I think players should stand for the national anthem," Arena said on FS1. "I think representing your country is one of the greatest honors a player or coach can have. That would be my expectations of the players as well."
U.S. women's national team winger Megan Rapinoe kneeled during the anthem before two September matches in solidarity with San Francisco 49ers quarterback Colin Kaepernick, who started taking a knee in the 2016 NFL preseason to protest racial prejudice and police brutality.
Once the anthems are played in this month's World Cup qualifiers, the U.S. will have to see off Honduras and Panama. The Americans currently sit last out of six teams in the final stage of CONCACAF World Cup qualification, though eight matches remain.
Arena, who took over for Jurgen Klinsmann after the pair of defeats to open the Hexagonal stage, said there will be a clear priority when his team meets Honduras.
"I think it's a real simple approach: win the game. We're going to do whatever we need to do to win," he said. "It's important to get three points in that game because obviously you know where we stand in the Hex right now. We'll have our players ready to go. We've got to go out, be aggressive and get some goals."
The U.S. hosts Honduras on March 24 in San Jose, California, before meeting Panama in Panama City on March 28.