PSL
Brockie hopes Baxter remains at SuperSport United despite Bafana Bafana reports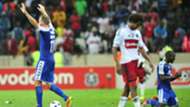 SuperSport United striker Jeremy Brockie can't bear the thought of losing coach Stuart Baxter to Bafana Bafana, saying it would be 'devastating'.
"I have been reading a lot about it as well and it would actually be devastating if we were to lose him at SuperSport," Brockie told Goal.
Bafana have been without a fulltime coach since the sacking of Shakes Mashaba in December last year.
Brockie hopes Matsatsantsa do all they can to ensure that Baxter remains at the Tshwane club given the influence he has had on the team on and off-the-field.
"Obviously the Bafana job is pretty exciting for him too, but personally, I hope we can keep him here at SuperSport and the club do all it can to keep him because he is a big influencer and man-manager off the field," Brockie said.
"He is always talking and looking to improve the team by bringing more confidence to the squad. Like I said, it would be devasting for us if the rumours are true, but we will have to wait on that one," Brockie added.
The 29-year-old New Zealand international is also impressed and somewhat taken aback at how his teammate Thabo Mnyamane has acclimatized to life at the club.
He hopes his call-up to Bafana will do him good in such a way that it transcends imminently on the rest of the United squad.
"I think Thabo has been outstanding not only for our club, but throughout the league and he probably hasn't got enough credit for what he has done for SuperSport this year," Brockie said.
"He has definitely been a standout performer and I am sure this Bafana call-up for him is very rewarding and hopefully he comes back with more confidence after being in that camp and live it up," Brockie concluded.