Manchester City
Guardiola asked to explain Redmond incident by FA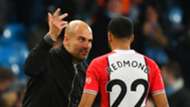 Pep Guardiola has been asked to explain his version of events to the Football Association (FA) following the post-match incident involving the Manchester City manager and Southampton winger Nathan Redmond.
The Catalan was involved in a seemingly heated conversation with Redmond after City won their Premier League match 2-1 on Wednesday, wrapping his arm around the player and slapping him on the chest, leading to speculation over what was said.
Guardiola told the media afterwards that he simply praised the winger's ability, and questioned why he was not allowed to attack.
"I was telling Nathan Redmond how good he is at the end. Southampton have some super talented players, Redmond is so good one against one," he said.
"But they didn't want to play, they were time wasting from the ninth minute. I just wanted them to play."
Newspaper reports subsequently claimed that Guardiola used an expletive, but Redmond took to social media to rubbish the report, insisting it was "all praise".
Just to clear a few things up for those wondering. Funny old game isn't it. pic.twitter.com/xUSr99MVeE

— Redz (@NathanRedmond22) November 30, 2017
"Yes, he was very passionate, intense and aggressive - but he was only very complimentary and positive to me," he wrote in a statement posted on Twitter.
"He commented on my qualities as a young English player and how he wanted me to attack his team more during the game in a similar way to last season.
"I told him I was doing what my manager had asked me to do in the game. That's it.
"Nothing negative or offensive was said towards me from Pep and that's what makes him one of the best managers in world football."
Nevertheless, the FA has sought observations from Guardiola and the 46-year-old must provide a response in writing by Monday, December 4.
At this stage, there is no misconduct charge levelled against Guardiola, whose side host West Ham in the Premier League on Sunday.