India U16
Bhaichung Bhutia: Sacking Nicolai Adam at this juncture doesn't seems to be judicious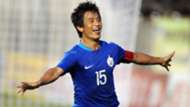 Less than a year for the Under-17 World Cup to be hosted in the subcontinent and India are set to part ways with German coach Nicolai Adam.
This was after an AIFF official acknowledged that the India Under-17 players have issued a written complaint against Adam and assistant coach Etibar Ibrahimov for ill-treatment and physical abuse.
However, Bhaichung Bhutia, who is the chairman of the AIFF Technical Committee and also serves as an advisor to the AIFF President Praful Patel, opines that it is very much normal practice for coaches to get incensed with players.
"Things like this happen across the world. The most famous was when Alex Ferguson kicked a boot at David Beckham. Things need to be sorted out sitting across the table. Sacking Nicolai at this juncture doesn't seems to be judicious," he was quoted in The Times of India.