Arsenal
Bellerin bemused by Alexis Sanchez and Arsenal squad divide claims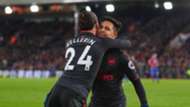 Hector Bellerin has offered a bemused response to accusations from Thierry Henry of Alexis Sanchez dividing the Arsenal squad.
The Gunners legend offered his take on events at Emirates Stadium following a 3-2 victory over Crystal Palace.
Sanchez netted twice in a Premier League win at Selhurst Park, but was said to have been snubbed during the celebration which accompanied his first effort.
Henry claimed that the rejection was a sure sign that Arsenal's players are growing tired of the incessant speculation regarding the Chilean's futur e, but Bellerin clearly does not buy into that.
December 29, 2017
He may not have said anything, but the Spaniard did not need to in order to get his point across.
Bellerin has taken the opportunity to point out that Alexis was congratulated by at least one colleague after finding the target, with Laurent Koscielny acknowledging his effort.
Henry, though, is unlikely to be convinced by one tweet from inside the Arsenal camp.
The Gunners legend told Sky Sports : "There is a division in the team. He is asking them to come. 'Why are they not coming? Don't you want to celebrate?'
"You're not here for Alexis Sanchez, you're here for Arsenal. Arsenal scored. Go and celebrate. Whoever does it, we don't care about that, go and celebrate with your team-mate.
"Maybe we are reading too much into it but I noticed it. Sanchez made me notice it. It was like he thought he was alone."
Arsenal will get another opportunity to prove that they are a united squad when they travel to West Brom on Sunday.
They will take in that fixture perched sixth in the Premier League table, but within touching distance of the top four and the much-coveted Champions League spots.