Premier League
Beleaguered former Ghana FA boss Nyantakyi to appeal Fifa life ban at CAS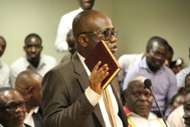 Former Ghana Football Association president Kwesi Nyantakyi is headed for the Court of Arbitration for Sports to appeal a lifetime ban handed by Fifa on Tuesday.
The renowned administrator was found guilty of violating three Fifa codes of conflict of interest, bribery and corruption, and commission after being caught in an investigative documentary on politics, corruption and match-fixing in June.
Initially handed a provisional 90-day ban, the suspension was later extended for 45 days, before Tuesday's final verdict condemned him for life in addition to a fine of CHF 500,000 (€ 438,462).
"I wish to express my shock and deep sadness after receiving the decision from the FIFA Ethics Adjudicatory Committee on Tuesday," a statement signed by Nyantakyi reads.
"My legal advisors are under my instructions to urgently appeal the decision as I think it was unfair, harsh and unwarranted.
"I will use all the legal channels available to seek redress and establish the facts I presented to the committee."
Aside from his position as GFA president, Nyantakyi was also first-vice president of continental football's governing body Caf, president of regional football unit Wafu and a member of the Fifa Council at the time of the exposé.
"Even though I have already resigned from all my football positions, it is important I establish the facts with the sole aim of clearing my name," Wednesday's statement continued.
"At this moment I am unable to provide any further details as my lawyers are reviewing the facts for appeal at the Court of Arbitration for Sport (CAS).
"I wish to express my sincere gratitude to the people of Ghana, Africa and indeed across the globe for the overwhelming support and outpouring of sympathy."
Back home, Nyantakyi has been under police investigation on order of Ghana president Nana Akufo-Addo since the exposé.