Neymar
Once-in-a-generation talent Neymar ready to be world's best, says Beckham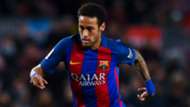 Barcalona superstar Neymar is ready to rival Lionel Messi and Cristiano Ronaldo to become the best player in the world, David Beckham claims.
The former Manchester United and Real Madrid midfielder has been following the Brazilian's career since he burst onto the scene as a precociously-gifted teenager at Santos.
He has gone on to become a talismanic figure for club and country since moving to Camp Nou in 2013.
Neymar's Clasico ban appeal rejected
Now 25, Neymar has reached 100 goals for Barca and shown that he is ready to join a talent group at the very top of the global game which is currently dominated by his club colleague Messi and Real Madrid talisman Ronaldo.
Writing the accompaniment to Neymar's profile in Time Magazine's 100 most influential people in the world, Beckham said: "It's been clear ever since he signed for Brazilian team Santos at 17 that Neymar is an outstanding talent, a once-in-a-generation type of footballer who has fans on their feet whenever he gets the ball.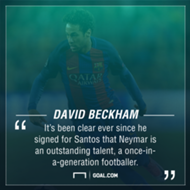 "I've always been struck by his humility. He's respectful and wants to learn, which he proved when he arrived at Barcelona in 2013 to play alongside some of the game's biggest stars.
"I suspect the recent Champions League game against Paris Saint-Germain, when Neymar helped his team to an unforgettable 6-1 win, will be remembered as the moment he stepped up to take on the mantle of best player in the world.
"Lionel Messi and Cristiano Ronaldo have a new rival to that claim—and Neymar is ready to make his move."
Neymar has only netted 15 times in all competitions this season, but he offers much more to the Barca cause than merely a goal threat – with nine assists provided in La Liga alone.