Barcelona
Barcelona partners with Viber, Vivoom and Dugout to offer new Camp Nou experiences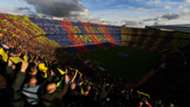 Messaging app Viber, consumer activation platform Vivoom, and football media business Dugout have launched a new partnership to dramatically transform Barcelona fans' tour experience at the historic Camp Nou.
In conjunction with Dugout, Viber is integrating Vivoom into its FC Barcelona chatbot, enabling visitors to Camp Nou to create and share unique end-to-end video experiences that place them amid the dream of signing a professional contract with Barca.
Fans will be able to use Viber's app to record themselves in a press conference in the media as well as emerging from the storied tunnel for the first time to the adulation of the fans. Filters will make the video seem as authentic as any major signing, and fans will then be able to share those videos across their own social channels. 
Vivoom will also provide a platform for Viber and FC Barcelona to review, moderate and curate content, obtain performance analytics, and distribute the videos to their own specific destinations.  
Fans from all over the world who are unable to make it to Camp Nou can still experience many of the interactive features on their mobiles within the FC Barcelona chatbot.
"Brands today are constantly seeking new ways of strengthening the relationship and engagement among their fans," said Djamel Agaoua, CEO of Viber.
"This partnership is a perfect example of how brands can leverage technology to deepen their interactions with their audiences. With this powerful combination, we can deliver inspiring user experiences for businesses around the globe."
The integration is part of a wider reinvention of the museum and tour experience, with a range of other exclusive interactive experiences being built into Viber's FC Barcelona community.
Those include creating a mock contract for signature, receiving a welcome from coach Ernesto Valverde and the players, and taking part in the "wall ball" skills challenge, enabling fans to be ranked against the Barça squad.
Dugout already shares exclusive behind-the-scenes content from top clubs and players to millions of fans worldwide, and is part owned by FC Barcelona.
"For Vivoom, the partnership with Viber is a natural extension of the impact our platform is delivering to brands across the globe, as we have already seen with the upcoming FC Barcelona activation," said Katherine Hays, CEO of Vivoom.
"The combination of Viber's reach, popularity and high level of security and Vivoom's unique consumer activation technology and user-generated advertising platform open a myriad of possibilities for our companies, allowing each organisation to play to its strength while helping brands deepen their touch-points with their consumers in a way that delivers value versus detracts from the consumer experience."  
Matthew Baxter, president of Dugout added: "This ground-breaking partnership will allow FC Barcelona's fans across the world unprecedented access to the club. It will allow them to experience what it feels like to be the club's next big signing and we are delighted to have devised the strategy behind this partnership and to have created some exclusive and unique content.
"This first of its kind collaboration with Vivoom, Viber and FC Barcelona really will bring fans closer to the club they love both at the stadium and around the world."