Copa del Rey
Barcelona meet Madrid for Clasico double-header in August after Copa win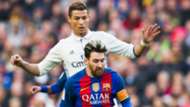 New Barcelona boss Ernesto Valverde will have the toughest possible start to his reign at the Catalan club as he begins with two games against Real Madrid next season.
Barca and Madrid meet in Miami in a Clasico clash during pre-season on July 29, but the two teams will now also do battle in the Spanish Supercopa after Los Blancos won La Liga last weekend and the Catalans claimed the Copa del Rey on Saturday.
Donnarumma urged to snub Man United
Luis Enrique's reign ended with a 3-1 win over Alaves to claim the domestic cup for a third successive season, the Asturian only facing Madrid in La Liga in his three seasons in charge.
That is something unusual after a number of fixtures between the two rivals in recent seasons, including when Pep Guardiola and Jose Mourinho were in charge and the sides famously met four times in the space of 17 days in 2010-11.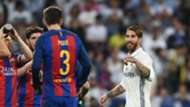 The last time Barca and Madrid met in the Supercopa was in Mourinho's final season (2012-13) and the away-goals win brought the Portuguese his third and last trophy as Blancos boss.
Since then, the Blaugrana have claimed the Supercopa twice by beating Atletico and Sevilla (as well as losing another to Valverde's Athletic Club), while Madrid lost out to Diego Simeone's side in the 2014 edition.
The two fixtures will take place in August, with the first leg at Camp Nou as the league champions always play the deciding game at home.