South Africa
Bafana Bafana legend Phil Masinga hospitalised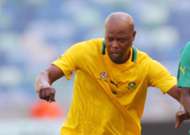 Former Africa Cup of Nations winner with Bafana Bafana, Phil Masinga has reportedly been admitted to hospital with an 'undisclosed illness'.
This is according to a report in City Press, which reveals that 'Chippa' as he is affectionately known, is currently in a North West public hospital.
However, while the president of the South African Masters and Legend Football Association Buddha Mathathe confirmed that the 49-year-old has indeed been admitted, he explained that they are in the process of attempting to move him to a private hospital in Johannesburg.
"I just spoke to him now and he is in high spirits. But we are making all the efforts to get him to Johannesburg to get the best medical care. We wish and pray that he gets better," Mathathe told City Press.
Masinga was part of a golden generation of South African players that not only lifted the 1996 Afcon but also made a name for himself playing in Europe, most notably with Leeds United.
"Chippa has done a lot for this country as a footballer. He was a good ambassador for the country and represented us well in England, Switzerland and Italy," Mathathe explained.
But while Masinga remains in good spirits, Mathathe further revealed that the former Mamelodi Sundowns star has fallen on hard times financially.
"Unfortunately, like many other footballers, he was never exposed to financial literacy and now finds himself in a bad financial state," Mathathe expressed.
"We might be setting a precedent in helping him out, but we cannot fold our arms and pretend he has not done a lot for the country. He needs our help in this hour of need," he concluded.