Orlando Pirates
Augustine Mulenga: My striking partnership with Justin Shonga will get better at Orlando Pirates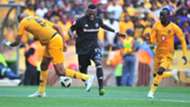 Orlando Pirates striker Augustine Mulenga believes that his striking partnership with Justin Shonga will soon produce goals. 
The Zambia international grabbed an assist as Bucs secured a 2-1 win over Soweto rivals Kaizer Chiefs in a massive PSL match in Johannesburg over the weekend.
"The good thing for me is that if I don't score, I do create'" Mulenga told the media.
Mulenga and Shonga have both flourished for the Zambian national team in the 2019 Africa Cup of Nations (Afcon) qualifiers this year.
"The difference between how we play for the national team and Pirates is the approach'" the skillful attacker explained. 
Shonga, who missed a penalty during Pirates' win over Chiefs, has struggled for form at club level in recent weeks. 
"What I can say is that we just have to continue working hard and be at our level best in order to do what we do best ( which is scoring goals)," he added. 
The Bucs supporters have grown frustrated with Shonga as he has been guilty of missing some clear-cut goalscoring opportunities.
"What I can say is that when you miss a goal, the supporters start doing substitutions symbols'" the former Zanaco attacker said. 
"But I just have to encourage Shonga to look up and forge ahead because we are the only players that can deliver," Mulenga explained.
"So, I encourage Shonga to keep on pushing. If we miss, they (the supporters) are the ones that will ask for a substitution but if we score they are also the ones that will celebrate with us," he added.
"There are so many games in front of us and the goals will come'" concluded the 2017 Zambian Footballer of the Year.