Premier League
Arsenal v Manchester United Preview, brought to you by Football Republic - Depleted United look to halt Arsenal in their stride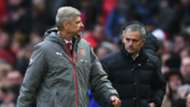 In what seemed like a routine 4-2 win over Watford during the midweek Premier League fixtures, Manchester United did have to pay a price. Now just days ahead of the Red Devils' trip to the Emirates Stadium to play arch-rivals Arsenal, the team's injury list is growing.
Midfielder Marouane Fellaini missed the game against Watford after suffering from a knee issue. The Belgian was even forced on the sidelines back in October, after sustaining knee ligament injuries while on international duty.
A new casualty, however, comes in the form of Nemanja Matic, who was forced off the Vicarage Road pitch. The Serbian holding midfielder has been a key member of the squad since he joined the team from Chelsea over the summer but is likely to miss the tie against the Gunners.
The fresh injuries come just weeks after United saw the return of Paul Pogba and Zlatan Ibrahimovic.
While Mourinho will have to shuffle his midfield, United's forward-line is looking ever so dangerous with the return of Ibrahimovic. He is a proven big-game player and will be looking forward to making a splash against a marquee team to announce his return.
Striker Romelu Lukaku, despite having scored just once in 10 matches, has formed a decent partnership with Anthony Martial upfront. And they have been ably supported by Ashley Young. The veteran winger, who has been deployed as a wing-back on occasion, has been impeccable in the last few weeks. Against Watford, his former club, on Tuesday night he earned a brace through strikes from outside the box.
United's greatest concern, however, will be in defence, especially since they come against an Arsenal team that has steadily been growing in form. Teams managed by Jose Mourinho have always placed special emphasis on a strong defence, and it will be interesting to see if United are up to the task against Arsenal and their free-flowing attack.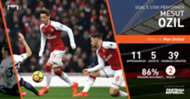 Arsene Wenger's team has now put a run of three Premier League wins in a row – the same as United.
Crucial to the hosts' play will be the role of in-form Alexis Sanchez. The Chilean attacker has found momentum and has played a role in each of Arsenal's last three wins. He scored the second goal in the 2-0 win over Tottenham Hotspur, followed by slotting home the lone goal against Burnley. He even found the net in Arsenal's 5-0 demolition of Huddersfield Town on Wednesday evening.
Mesut Ozil too has struck a purple patch. The German worked tirelessly in the North London Derby and even found himself on the scoresheet against Huddersfield. Adding to the Gunners' firepower is Olivier Giroud, who came on as a second-half substitute and earned himself a brace at the midweek.