Ghana
Appiah elated with Saudi Arabia friendly win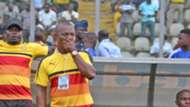 Ghana coach Kwesi Appiah says he was satisfied with the performance of his charges following a 3-0 victory over Saudi Arabia in an international friendly on Tuesday.
"It was a good game and I'm happy with the performances of the players because they did well. It's always good as a coach to have sleepless nights in the sense that once you have variety of players to pick from," Appiah said.
"This shows how strong the team will be and even though you'll have headache with selection for games, once there is victory at the end of it, your headache will come down.
"I think it's a national team because if it's a club side, you are only limited to few players you've registered but this is a national team and it's important we stretch our hands," he said.
He added: "At the end of it all, it is the nation that will benefit from it in the long term. When you start any project, automatically there will be lapses and some few issues but I believe that's how you become strong and that's how you develop and get a better team for the future."
Ghana, who last lifted the Africa Cup of Nations in 1982, are currently on top of Group F of the 2019 Afcon qualifiers comprising of Ethiopia, Sierra Leone, and Kenya.