NPFL
Anthony Okpotu urges Lobi Stars to spill blood against Enyimba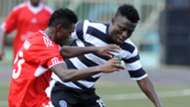 Lobi Stars attacker, Anthony Okpotu has tasked his teammates to spill their blood if necessary to ensure they secure a positive result when they face Enyimba in Calabar on Wednesday.
The Pride of Benue head into the midweek fixture atop the Nigeria Professional Football League table with a five-point cushion over second-placed Akwa United and they could extend that lead if they get at least a point at the UJ Esuene Stadium.
Okpotu who recently scored his first goal of the season with a sublime free-kick against Enugu Rangers noted that it was not time for them to play soft despite their healthy lead at the top but that they must try to garner as many points as possible to ensure they suffer no last-minute anguish at the end of the season.
"We are happy with the position we are at the top of the league table and it will be nice if we are able to hold on to it till the end of the season," Okpotu told Goal.
"The game against Enyimba is one that we can't afford to lose because it is our desire to win the league title at the end of the season. They may not be among our direct rivals for the title right now but we do not want to give room for any complacency at all.
"We know that we are still at a good position but with the peculiar nature of our league, we do not want to be caught unprepared at all. We want to do everything to ensure that our destiny lies right in our hands until the end of the season.
"Enyimba are a very tough team and having held us at home when we faced them in the first round we want to have our pound of flesh. They will be favourites because they are playing at home but we will show them the reason why we are at the top of the league table for many weeks."
"We know what is at stake and it is the reason we are ready to spill our blood to ensure that we deliver in Calabar. We are unanimous in our resolve to ensure that our visit to Enyimba doesn't end in vain."
The former Al Ittihad of Libya attacker was the highest scorer in the top-flight last season with 19 goals.