Australia
'We're going backwards'- Ange Postecoglou slams Australian football development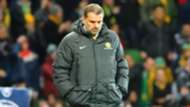 Having led the Socceroos to a fourth consecutive World Cup before stepping aside as coach, Ange Postecoglou has vented his frustrations at the state of Australian football development.
Now in Japan with Yokohama F.Marinos, Postecoglou was once heavily entrenched in youth development in Australia having coached both the U17 and U20 national sides between 2000 and 2007. 
Since that time, he's gone to become a successful A-League coach with Brisbane Roar and Melbourne Victory before ultimately earning his shot with the Socceroos.
While Postecoglou's tenure in charge ended with his somewhat surprising departure, what wasn't surprising were his frustrations with how football was being run in Australia.
Chief among those is development, with the 52-year-old particularly critical of the current state of affairs. 
"Unfortunately, from my days as national coach we're going backwards – in terms of we don't see it as an investment, we see it as an expense," Postecoglou told The Guardian.
"We just have too short-term thinking, there just aren't enough people with a broader vision as to how we can actually we can make Australia a force in world football.
"At the moment, it's still about this World Cup or the next tournament, and eventually that will catch up with us. I think we're going to find it really hard to compete in Asia."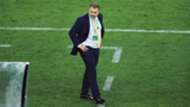 Under Postecoglou, the Socceroos won the 2015 Asian Cup with the upcoming 2019 tournament looming as a difficult first challenge for incoming coach Graham Arnold.
Postecoglou stressed the only way Australia can start moving forwards again in terms of football development is by reinvesting in the grassroots. 
"If you don't invest in grassroots and if you don't invest in youth football, then it's inevitable that you'll pay the price somewhere down the track," he said.