Orlando Pirates
An angry Irvin Khoza told me not to join Kaizer Chiefs, says Teko Modise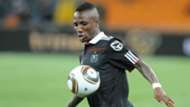 Cape Town City midfielder Teko Modise has disclosed how he was told by Orlando Pirates chairman Irvin Khoza not to join Kaizer Chiefs.
In the latest revelation on his book, The Curse of Teko Modise, the 34-year-old discusses his meeting with an angry Khoza in 2011 after months of being in and out of the Pirates team.
According to TimesLive, the book reveals that Modise was given a call on the night before the meeting by his agent' Jazzman Mahlakgane' and told to wear a suit.
Furthermore, Modise purposefully wore the most outrageous suit he could find to a meeting with Khoza on the day when it was agreed the midfielder's contract at the club would end.
"Teko had a good' long think about what he was going to wear. The more he thought about it the more he realised that he did nothing by the book. He was no ordinary guy. He thought that' seeing as his stay had been nothing short of controversial' he was going to go out with a bang," TimesLive quoted an extract from the book.
"He chose the most obnoxious' outrageous' brightly coloured suit he could find. It was more than offensive on the eyes. He wore a pink shirt' a red tie' and all the other colours he could throw together. It ticked all the wrong boxes. I loved it. I did it on purpose; I wanted to go out in style. The next say Teko arrived for the meeting. He imagined the meeting taking place in a big room with all of South Africa watching and Jazzman' his protector' by his side," another extract from the book read.
According to the publication when Modise arrived' there were a couple of people gathered outside the meeting room including the members of the media, Pirates officials and Mahlakgane.
"The door of the room opened; Irvin Khoza glanced at Teko, and summoned him inside. Teko was hoping Jazzman would be invited in too. He was not. It was just the Iron Duke' Teko Modise' and his ridiculous suit' which was starting to look like a bad decision now that he was face to face with the most powerful man in South African football," an extract from the book read.
"'If there is one thing you can pray for in this life' it's that you never find yourself alone in a room with the Iron Duke when he is angry. And Irvin truly was furious. He told Teko that he was disrespectful and that all of his actions over the past while were wrong. The grilling went on for an hour and the media waited outside. Irvin told Teko that he would release him on one condition: he was not allowed to join Kaizer Chiefs. After that Irvin pushed back his chair and stood up."