Juventus v Real Madrid
Allegri injury scare ahead of Juve's Champions League final clash with Madrid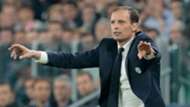 Massimiliano Allegri has offered Juventus their first injury scare ahead of a Champions League final clash with Real Madrid.
The Serie A champions will face the newly-crowned La Liga title holders at Cardiff's Millennium Stadium on Saturday.
Casillas: Buffon deserves CL win
Both sides have been put through their paces on the training field ahead of the game, but are hoping to avoid any untimely loss of talent.
Juve's playing staff have suffered no knocks as yet, but their manager did pick up a muscular injury during 'La Partita del Cuore', a benefit sporting event.
He left the field holding his right thigh and told Rai1: "Is this a joke? Absolutely no, I was having fun and I was injured, it's just muscular.
"You can try to challenge everything ... but not age!"
Allegri was a reliable midfielder during his playing days, making over 370 appearances for the likes of Pescara, Cagliari, Perugia and Napoli.
Five heart-stopping UCL moments
He is, however, now 49 years of age and more accustomed to donning a suit on the touchline than a jersey on the field.
Allegri has shown himself to be particularly successful in a coaching capacity, with a Serie A title at Milan followed by seven major trophies in Turin and a second Champions League final appearance.