Arsenal
'Alexis is definitely leaving' - Arsenal's Sanchez/Welbeck shirt number mix-up after kit launch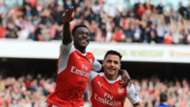 How NOT to launch a new home shirt starring Arsenal Football Club.
Pires backs Wenger over Mbappe
The Gunners unveiled their home strip ahead of the 2017/18 campaign on Wednesday and all appeared fine initially as fans headed towards the club's website to put a pre-order in.
However, an unfortunate mistake from Arsenal led to supporters panicking that star man Alexis Sanchez had been pretty much confirmed as leaving ahead of the summer transfer window.
Alexis, who has just one year left on his current contract with talks ongoing over an extension, has been strongly linked with a departure, with Manchester City in the mix.
Welbeck and Alexis both number 7pic.twitter.com/3pHCyNugA4

— NW3Gooner (@NW3Gooner) June 21, 2017
So, when fans found that Alexis' team-mate, Danny Welbeck, was an option when wanting to buy a new Arsenal home shirt with the number seven on the back, it's fair to say a meltdown had started!
Arsenal quickly corrected the mistake, with Welbeck soon appearing as an option for his current number 23 jersey, in what was an unexpected mix-up from the club.
OH MY GOD WENT TO ORDER THE NEW SHIRT AND WELBECK 7 IS AN OPTION ALEXIS IS DEFINETLY LEAVING pic.twitter.com/EZJDMGe1AE

— fin. (@pIaymaking) June 21, 2017
On the Arsenal website. Well, I guess that's one way to break the news...*

*the 'error' has now been corrected... pic.twitter.com/rI3flXyXZR

— Jake Humphrey (@mrjakehumphrey) June 21, 2017
On Arsenal's official website they are selling Welbeck shirts with the number 7 on the backpic.twitter.com/Fuw1UfNnmZ

— Footy Accumulators (@FootyAccums) June 21, 2017
Seems like on the arsenal website, if you order a shirt you can get "Welbeck 7" on the back. They know something we don't...

— Bennasaurus (@tallica88) June 21, 2017
Lads either announce Alexis leaving or fix the websitepic.twitter.com/w7JyEFipJQ

— RamZidane (@Wayne_Writes) June 21, 2017
Well this is a really really really bad sign.

Hope it's a random error, but I'm going to be LIVID if we lose Alexis.#Nervous#Welbeck7 pic.twitter.com/AOaiP1VjAG

— Moh Haider (@ArsenalMoh8) June 21, 2017
Welbeck and Alexis both down as no 7 on the Arsenal website. Why?

— Chris Cornell Legend (@richardbrown31) June 21, 2017
Welbeck has been given Alexis
No. 7 shirt for next season.
Is this significant ? Probably. pic.twitter.com/ynHwA9DJSr

— Martin Wengrow (@MartinWengrow) June 21, 2017
And breathe...