South Africa
Alex Heredia: Bafana Bafana can beat Nigeria again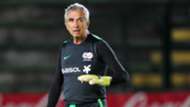 Former Bafana Bafana goalkeeper coach Alexandro Heredia has backed the Bafana Bafana to beat Nigeria in their 2019 Caf African Cup of Nations qualifier, but he has urged the current crop of players to respect the Super Eagles.
Heredia said coach Stuart Baxter's strike force is one of the best on the African continent whilst saying that the West Africans are shivering ahead of the clash set to be staged at the FNB Stadium on Saturday afternoon.
"Look, the hoodoo has been broken because we beat Nigeria 2-0 in Uyo, and that was a comfortable scoreline. I think they need to take their chances now to ensure that they get another win," Heredia told Goal.
"It is not going to be easy because we need to qualify and there is pressure, but I must say they need to play their normal game because qualifying is a must," he added.
"I am confident that we can beat Nigeria again because we have the best strike force in Africa. There is Lebo Mothiba, Dino Ndlovu, Percy Tau and Themba Zwane," he said.
"I am sure they are scared of our strikers because we have one of the most talked about hot potatoes in Europe and that is Mothiba," said the coach.
On the Thulani Serero factor, the experienced mentor said the Vitesse midfielder will bring a massive boost to the team because he is one of the assets in the national side.
"Yes, absolutely! There is a huge boost when talking about Serero because he is one of the best players in the country. He is an asset and one of the greatest players in the team," continued the tactician.
"However, let's see how he reacts in the camp in terms of training and so on, but there is no doubt that he brings in a good element in the team," said Heredia.
"Although we will work hard against Nigeria, we will still need luck to score goals because they are not a small country in Africa. They are the best in Africa, but Bafana can beat them. We showed in Uyo that they are beatable and we just have to respect them and do the job," he concluded.