Ghana
Afriyie 'warns' Nyantakyi against running for 2019 Ghana FA elections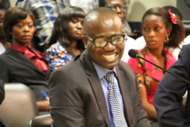 Former Ghana Football Association vice president George Afriyie says it would be a wrong decision for the current president Kwesi Nyantakyi to seek another term in office.
The 50-year-old was sacked last week by his former boss following disagreements on issues, according to reports.
Nyantakyi, who has declared on numerous occasions not to run for another term, has recently shown signs of rescinding that decision.
"People should not deceive Kwesi Nyantakyi ahead of the elections next year because he'll lose if he partakes again," Afriyie told Asempa FM.
"He has become unpopular in the eyes of the masses and does not have the public support anymore. He might think that he will win the sympathy of the 123 delegates who will vote but when you don't have the support of the over 23 million Ghanaians, there is a big problem," he added.
Afriyie, however, reiterated his ambition to contest in the election amid the controversies surrounding his decision.
"It's an election and one can also be deceived but I will contest whether he is part or not. I am very optimistic and so we should wait," he said.
Nyantakyi, who became the FA's chief in 2005, has worked with four different vice presidents.
Goal understands that a new vice will be announced in the coming days.