AFF Championship
Tan wants charges to believe they will attack more, while Thailand will play defensively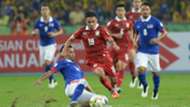 ---
BY        ZULHILMI ZAINAL       Follow on Twitter
---
Ahead of Malaysia's first leg semi-final 2018 AFF Championship clash against Thailand this Saturday, head coach Tan Cheng Hoe wants his charges to reframe their mindset against the Southeast Asian giants.
The Thais are the competition's most illustrious side with five titles, and have won the last two editions. On top of this, the last time the War Elephants lost to another Southeast Asian side was back in the first leg final of the 2016 edition, 2-1 to Indonesia. Even then they were able to overturn the tie at home, to win 2-0 in the second leg and lift the title.
Against Malaysia, recent records also favour Thailand heavily. Out of the two sides' 10 most recent encounters, they have won seven while the Harimau Malaya won only once.
Speaking to the press just before conducting training on Wednesday, Tan is adamant that his midfielders are able to match those of their Saturday opponents.
"Thailand have quality in the middle of the park, but our midfielders are no less capable.
"Akram (Mahinan), Syamer (Kutty Abba) and Kenny (Pallraj Davaragi) have shown stability when they were fielded, and are up to the task," he said.
When asked by Goal whether he is working on his charges' mental strength as well in preparation to face the favourites, Tan responded in the affirmative.
"My men have to change their perception that every time we face Thailand, we think they're better than us and we need to play defensively.
"This time around, I want my men to take to the pitch with the confidence that Thailand are most probably going to play defensively, that we are going to have more of the ball and doing most of the attacking," responded the former Kedah boss.
Keep updated on the 2018 AFF Championship!
Also follow Goal Malaysia 's Instagram account!