Malaysia v Thailand
Syahmi reveals which Thailand players will get more of Malaysia's attention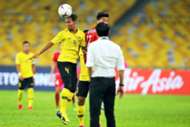 ---
BY        ZULHILMI ZAINAL       Follow on Twitter
---
Malaysia right back Syahmi Safari has grown from strength to strength in the 2018 AFF Championship, helping the Harimau Malaya reach the semi-final stage.
The 20-year old had previously only been a fringe player in head coach Tan Cheng Hoe's squad, but first pick right back Matthew Davies' ommission from the squad due to injury has fast-tracked his ascencsion.
He has been proving his potential with right winger Mohamadou Sumareh, and in their 3-0 group stage win over Myanmar last week they combined well to help open the scoring. On top of this, the Selangor player has played in every minute of Malaysia's group matches, all the while displaying composure and dependability in defence.
Commenting on his tournament so far, the Bukit Jalil Sports School product remarked that he has played well, but is seeking to improve further.
"I've been playing well I believe, but it's still not enough. I want to make a bigger impact on the team. I need to improve on my organising when attacking and defending," said Syahmi to Goal before training on Wednesday.
"My chemistry with the teammates is improving, and I want to do even more this Saturday, in our first leg semi-final match against Thailand."
And ahead of their encounter against the defending champions at home, the utility player has revealed the most important aspect that the hosts' defence needs to focus on.
"We've watched Thailand's previous matches a couple of days ago, and we've identified around three players that we need to be wary of, such as their no. 29 (Sanrawat Dechmitr) and no. 22 (Supachai Jaided). They play key roles in the team.
"We have to prepare better mentally as compared to our previous matches. We need to avoid making mistakes and losing our focus even for a second, because they are a formidable and balanced side while the players are experienced," remarked Syahmi. 
Keep updated on the 2018 AFF Championship!
Also follow Goal Malaysia 's Instagram account!