Asian Cup Qualification
AFC postpones Asian Cup qualifier between North Korea and Malaysia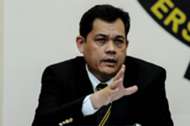 ---
 BY       OOI KIN FAI      Follow on Twitter
---
Asian Football Confederation (AFC) through its Competition Committee today made the announcement that the 2019 Asian Cup match between North Korea and Malaysia scheduled for 28 March 2017 will now be postponed.
Originally scheduled to be played in Pyongyang, but has now been postponed due to escalating diplomatic tension between the Governments of North Korea and Malaysia. It is a decision that is welcomed by Football Association of Malaysia (FAM) as they had earlier submitted the request to have the game be moved to a neutral venue following the decision from the Malaysia government to stop the team from going over. 
In a press statement released by FAM, Dato' Hamidin Amin the General-Secretary of FAM praised the decision made by AFC and said it was the right choice given the current state of affairs between the two countries. 
"FAM welcomes the positive decision made by AFC as that is the best decision in view of the safety of the players and officials had the match went on as scheduled on the 28 March. This is because the diplomatic tension between North Korea and Malaysia still have not subsided."
"Regarding the new date and venue, FAM will follow whatever decision made by AFC and will give our support to the matter," said Dato' Hamidin.
For Datuk Ong Kim Swee, the preparation for the team still goes on as the friendly match against Philippines isn't affected by this latest decision. The players are expected to report for duty on Monday, 13 March 2017 and will play against their South-East Asian rivals on the 22 March 2017.