AFC Cup 2018: Zonal Semifinals 1st leg Review: West & ASEAN Zone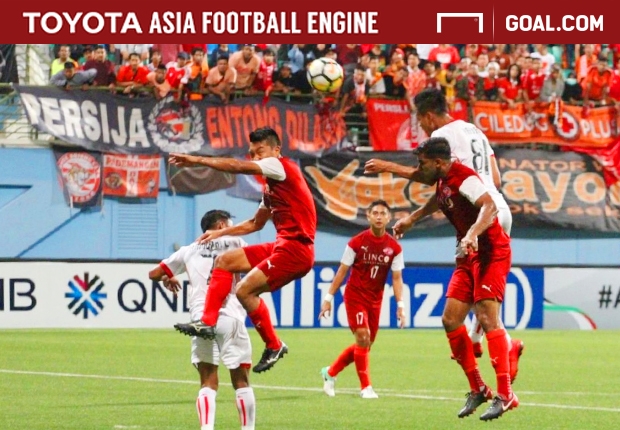 Persija
The Zonal final lineup is ready in the West and ASEAN Zones in the AFC Cup 2018. Here is what happened in the week:
WEST ZONE:
---
Al Faisaly 0-1 Al Jazeera (1-2 on Aggregate) (Al Tamaari 51')
---
Jordan's Al Jazeera progressed to the West Zone final of the AFC Cup 2018 after a 1-0 win in the second leg against compatriots Al Faisaly on Monday, sealing a 2-1 result on aggregate.
Al Jazeera had to score in the game, given the 1-1 draw in the first leg. Both teams had chances in the first half but a goal was not forthcoming. However, Al Jazeera took the lead in the 51st minute, thanks to striker Musa Al Tamaari. He embarked on a solo run down the middle, before exchanging a one-two with Abdullah Al Attar and finishing into the bottom corner.
Al Jazeera would hold off the home team without much trouble to reach the West Zone final.
---
Al Ahed 2-2 Air Force Club (3-5 on Aggregate) (Kdouh 69' Zreik 77' - Ahmad 23' Mohsin 34')
---
Iraq's Air Force Club kept their hopes of winning a third successive AFC Cup after reaching the West Zone final on Tuesday with a 2-2 draw in the second leg against Lebanon's Al Ahed.
After a 3-1 win in the first leg, Air Force Club knew they had the game in the bag and went on to secure it even further as Hammadi Ahmad put them ahead in the 23rd minute after latching on to a perfectly weighted through-ball from Humam Tareq.
A defensive mistake from Hussein Al Zein 10 minutes later gifted Emad Mohsin a goal as Air Force Club went 2-0 up on the night and 5-1 up on aggregate. Though there was a late fightback from Al Ahed which saw them score two goals and equalise on the night, it was never enough to prevent Air Force Club from progressing.
ASEAN ZONE:
---
Persija Jakarta 1-3 Home United (3-6 on Aggregate) (Simuic 9' - Ishak 6', 12' Ui-Young 44')
---
Singapore's Home United progressed to the AFC Cup ASEAN Zone final after a 3-1 win in the second leg against Persija Jakarta, sealing a 6-3 aggregate triumph.
Persija, 2-3 down from the first leg, had a nightmare start as Shahril Ishak opened the scoring in the sixth minute after a mistake from goalkeeper Rizky Darmawan. But Persija were handed a penalty when Novri Setiawan was taken down in the box and Marko Simic converted the spotkick.
Home United were then awarded a penalty as Rezaldi Hehanusa was adjudged to have fouled Ishak in the area. Though Ishak's penalty was saved, he reacted well to knock in the rebound and make it 2-1 on the night.
Home United would go on to seal the win with another goal just beofre half-time through Song Ui-young who headed in the third goal, after Persija were down to 10 men after Jaime was given his marching orders.
---
Yangon United 3-2 Ceres Negros (5-6 on Aggregate) (Uchida 2' Soe 83' Sylla 87' - Ott 8' Maranon 78')
---
Philippines' Ceres Negros also reached the ASEAN Zone final despite a 2-3 loss to Myanmar's Yangon United on Wednesday. A 4-2 win in the first leg meant Ceres Negros went through 6-5 on aggregate.
Yangon United made a flying start to the game at home as Kosuke Uchida fired in a splendid strike in the second minute. But Ceres equalised through Manuel Ott only six minutes later, after good work from Stephan Scrock.
Yangon mounted a response in search of goals but were given a blow when Bienvenido Maranon fired Ceres ahead in the 78th minute. He sliced a left-footed effort home at the near post which meant Yangon needed three goals in the final 12 minutes to force extra-time. They did manage to get in two but were unable to find a third which meant Ceres went through.