Goal United
Academy View: A week in the life of Moritz Kossmann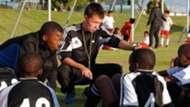 ---
ACADEMY VIEW:    Young Bafana        Follow on Twitter
---
As I occupy a few different positions in the academy I have to juggle multiple and quite diverse tasks on a daily basis. I am the technical director of the academy as well as the U18 coach. At the same time I am the vice chairman of our partner-club Avendale Athletico.
My average day usually starts at 9:00/9:30 after breakfast.
In the morning, I usually focus most of my time on administrative tasks. This entails looking after our academies interns, writing articles (like now) to give exposure to Young Bafana. Besides that, I write my session report backs (basically about what we did in each session, how it went and how each individual player did), analyze the videos of my team's previous match and generally plan the upcoming sessions. 
These are all tasks that consistently take place on a day to day basis. Besides that, there is usually a lot of micro-management happening as there are always small issues to attend to. For example, I need to stay on top of our team's registrations at the football association, which can be quite a process, or organize transport to our sessions for the players.
I also attend quite a high number of meetings on a weekly basis.
On Monday, we always have our staff administration meeting where we discuss coach's allocation for the week and other logistical issues and challenges. This is normally a 90-minute meeting.
The Steven Pienaar season review and the way ahead
On Thursday, I deliver a coach the coaches session for our staff where we try to improve everyone's coaching skills, usually with the help of a presentation that I prepare in advance. Besides these set weekly dates I usually have quite a few other meetings, either with the executive at our partner club Avendale or at the CTTFA football association itself. These are usually evening meetings and can last up to 3-3.5 hours depending on what is on the agenda.
Besides all the administration I obviously have training with my U18's in the afternoon. On my way to the session I usually pick up 3/4 players in my car. The drive to the session takes about 60 minutes. Training itself is usually 1.5 hours. After training, again, I have to make sure that everyone comes home safe and sound. Sometimes if there is no transport I take the kids home myself.
The training itself is, of course, the part of my day that I enjoy the most by far. I enjoy being outdoors and working with young but ambitious football talents.
I make it a case-in-point in preparing each session very thoroughly as well as writing an extensive reflection on each session. This is important because I am a firm believer in a good preparation. If I prepare each session thoroughly, the chances of it being productive and the players learning something is ever-increased.
The reflection is important for another reason. Firstly, for me as a coach to look back at my own preparation and execution of the session: What was good? What could have been better? Was it appropriate for my players? Did I bring my coaching points across?
Secondly: To reflect on the players performance on a daily basis: Did they train with good intensity? What aspects of their game showed good improvement and what aspects need to be worked on in future? And also, and very importantly, did they enjoy the session?
Being on the field and helping players improve on daily basis is my absolute passion. Therefore, I try to improve myself (little by little each day) at my trade. To improve one needs critical self-reflection but at the same time I really value the input of other coaches about my work.
The highlight of the week is always the match day. I often say to the players, we play like we train.
So, I do see the matchday's outcome as a direct consequence of our work on the training-field during the week. However, the adrenaline you feel on matchday, the sheer intensity of high-level competition and the act of constantly having to think on your feet is something I really cherish.
Sundays are usually my off-day in the week, but during the season there can often be matches on this day too.
Working as a fulltime coach often sounds like quite an easy going and fun-filled job. However, to excel at this, it requires just as much work, if not more, than many conventional trades.
You have to be quite self-disciplined and will have to work at unusual times and on unusual days. Nobody will force you to sit down and work, however to improve consistent hard work is an absolute pre-requisite.
Finally, I'd single out the attribute of constant striving for improvement and knowledge to be the absolute key characteristic in this competitive profession.
Cape Town City sign Mozambique captain Jeitoso
We as coaches have the opportunity to be role-models for our players, so practicing what you preach is important and generally going forward with a positive growth mindset will show the youngsters the way for a better tomorrow.