A-League
A-League Rev-Up: Adam Taggart ready to celebrate amidst FFA Cup hangovers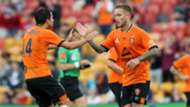 It's the question every fan wonders when it comes to one of their former strikers: will they celebrate if they score against us?
For Adam Taggart the answer is a simple one as he prepares to take on Perth Glory for the first time since joining Brisbane Roar in dramatic fashion over the off-season.
Elsewhere, Round 3 will bring with it two sides battling back from a mid-week hangover and a club riding high after hitting a special supporter landmark. 
---
Adam Taggart ready to celebrate against Perth Glory
---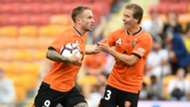 It's a sign of Taggart's talent that Glory were left reeling after his decision to depart the club and sign for Roar this season.
The club's owner Tony Sage accused the striker of 'blindsiding' them with his transfer, claiming his actions weren't that of a Perth player.
All eyes will again be on Taggart's actions on Saturday night as he looks to score against his former club and the man himself admits he will celebrate, admittedly with some restraint, should he find the back of the net.
"I'm normally quite a big celebrator, but I don't necessarily agree with people not celebrating at all because you're obviously happy if you score a goal," Taggart said.
"I think going over the top is a different story. You've got to respect the fans and that's what I'll be doing. 
"But if I score a goal I'm going to be happy because it's contributing to a win and wins are all I care about."
Taggart stressed his decision to depart the Glory was nothing personal and the opportunity to work under John Aloisi was something he simply couldn't pass up. 
---
FFA Cup hangovers a real headache
---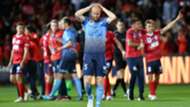 Sydney FC will play their third game in just six days when they take on Melbourne City on Friday night as they battle an FFA Cup hangover of epic proportions.
After beating Western Sydney Wanderers on Saturday, the Sky Blues fell to Adelaide United in the Cup final on Tuesday and will have to dig deep for a competitive performance against City.
With Siem De Jong injured, Sydney FC's options in the final third have been further limited and Warren Joyce's men will back themselves to claim a second win of the season at AAMI Park.
The Reds meanwhile have been given two further days to recover with a game against Central Coast Mariners on Sunday handing them a little more breathing space between games.
Having hosted the final and their last A-League game against Newcastle Jets played last Friday, Adelaide must make the trip out to Gosford, but have been handed a much easier run than the Sky Blues. 
With the Reds also pocketing some silverware on Tuesday, it's safe to say Sydney FC are much more in need of some panadol.
---
Newcastle Jets super support set to be unleashed
---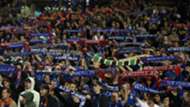 After going from wooden spooners to grand finalists, Newcastle's loyal fans are set to turn out in resurgent numbers this season with the club chalking up 10,000 members during the week.
It's an impressive achievement for the club who are eyeing off their record membership tally of 11,200 in 2012/13 when Emile Heskey was on the books.
Having now crossed the 10,000 mark, the Jets will host their first game of the season on Saturday against Melbourne Victory in a mouth-watering grand final rematch. 
All signs point to a huge crowd turning out as Newcastle once again looks to make its voice heard in the A-League.
After a tough few years in the Hunter, the Jets fans have stuck by the club and deserve to see their side soar this season in very strong numbers.