A-League
A-League independence, a second division and safe smoke top of player's wish list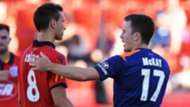 With plenty of noise around Australian football at the moment, the most important part of the puzzle have had their say with A-League players given a voice in the latest yearly report from the Professional Footballers Australia (PFA).
As FIFA looms over Football Federation Australia and the A-League seemingly at a crossroads, players have weighed in on some of the biggest questions facing the competition.
Perhaps the most pressing is whether the A-League should be operated independently from the FFA with players overwhelmingly in support of an independent A-League.
Not one player said no when asked with 77.4 percent responding yes and the remaining number responding as unsure.
With the A-League set to expand by two teams in the 2019/20 season, calls for a second division have increased and it's something the players also want to see.
Of those asked if there should be a second division below the A-League, 74.2 percent replied yes, 16.1 percent no and 9.7 percent as not sure. 
"As players we all want expansion as it creates more jobs and gives more players opportunities," one anonymous A-League player commented.
"But we need to learn from the past and not just dive into expansion until the right amount of planning/research etc. has been done."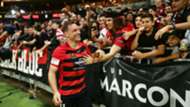 After last season was once again marred by active support frustrations, the players themselves stressed they want to see fans be allowed to express themselves more freely.
"Less rules and regulations on active supporters," one response read.
"Pyro smoke, more banners and flags, under 12 free with paying adult across board.
"Legalise safe smoke or flare usage for designated sections of active support areas."
The VAR was another matter of contention last season after being introduced in the A-League and a slim majority of players believe it should be scraped moving forward.
When asked whether the VAR should continue to be used, 53.2 percent of players responded no, 29 percent yes and 17.7 percent as not sure.
The 39-page report can be read in full here.