2018 Diamond Scouting Tournament set to unearth Nigeria's generation next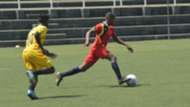 Scouts from a number of European countries like Turkey, Spain, Portugal, and England were in attendance for the Diamond Scouting program which commenced in Lagos on Tuesday, 30th at the Legacy Practice Pitch of the National Stadium, Surulere, Lagos.
The scouting tournament is put together by Diamond Sports Management and has in attendance a large contingent of foreign scouts with a wide range of international network spread across Europe and beyond.
A number of teams with rich history of producing exceptional talents from their youth ranks were involved in the programme, most notably 36 Lion FC, a club which discovered Imoh Ezekiel.
Also participating in the scouting tournament is Nath Boys FC – a team nurtured Nigeria international and Leicester City's Wilfred Ndidi. Other are Victor Osimhen's Box2Box FC and Bethel FC.
''We are in Nigeria to scout for the best talents through this scouting exercise. We believe talents abound in Nigeria and we intend to use this platform to identify the exceptional talents, propose them to European clubs and project them to limelight," Cem Sagar, director of Diamond Sports Management told Goal.
"We started with the first phase of the scouting program in Abuja which was held in October and we were able to identify and select five players. The Lagos phase of the scouting exercise has so far given us the opportunity to see more talents.
"And we are confident that with our management team we can take the boys to the next level and make them understand what needs to be done once they get to Europe. We will for sure be in Nigeria more often and want to thank all the academy that took part for putting in the hard work."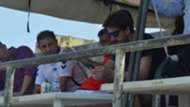 In his reaction, Diamond Sorts Management UK's Chief Consultant, Mr. Chukwuma Nwankwo highlighted the objectives of the tournament and plans for the players. 
"We have created this tournament to discover talent and give them a platform to move to Europe," he said.
"There are six scouts and four agents across top countries in Europe to select the best players in this tournament. The first set of players selected will be given a direct contract to an European Club, while the second set of players will be handed trials with top clubs in Europe".