Messi, Payet, De Bruyne & the players who have created the most chances in Europe in 2017-18
Last Updated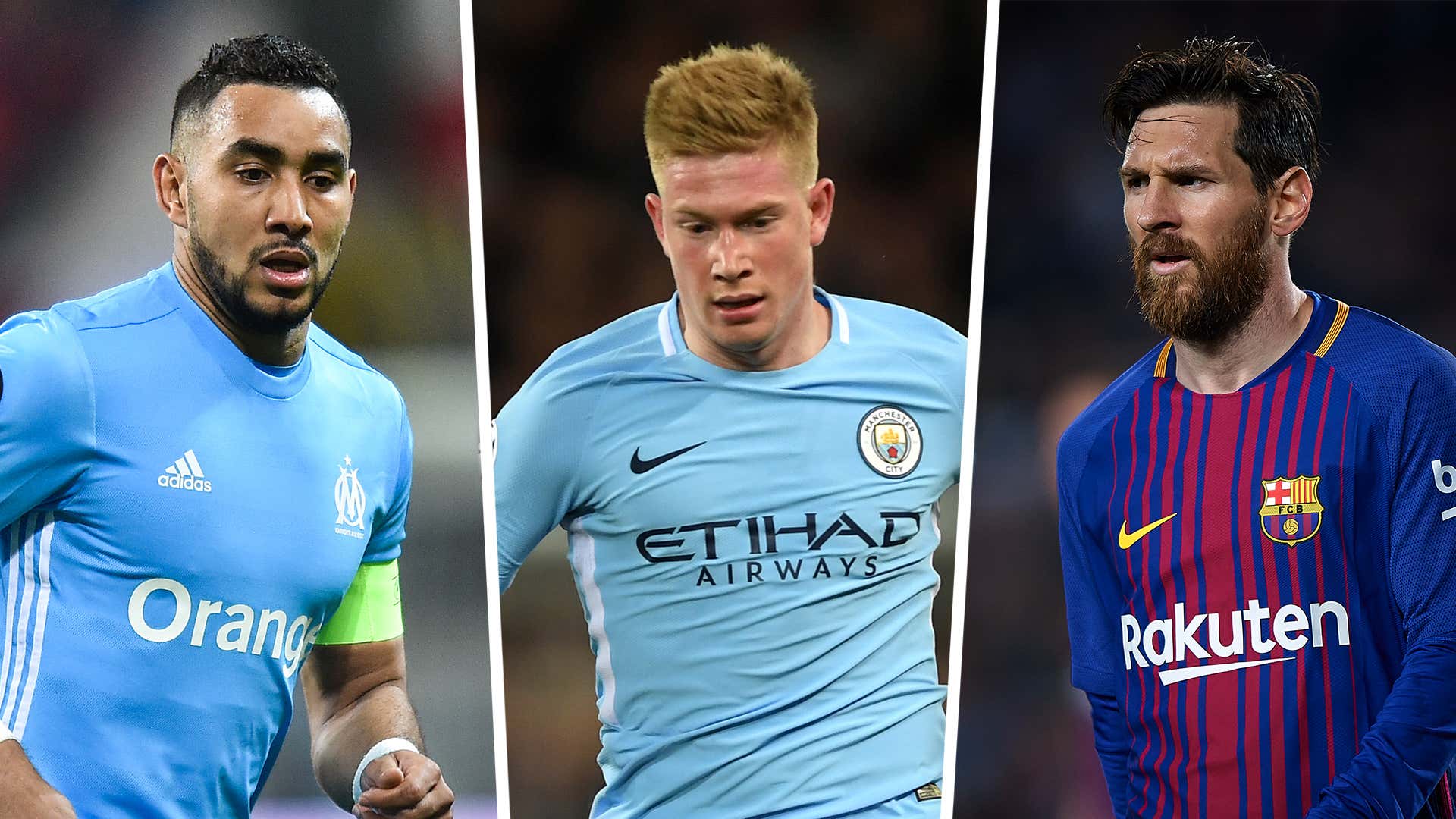 Getty
Getty Images

Lucas Perez | 77 chances created

Lucas Perez is still technically an Arsenal player, but has enjoyed an impressive season out on loan at Deportivo La Coruna as he waits to learn more about his long-term future after Arsene Wenger's departure from the Emirates Stadium.

Getty Images

Alexis Sanchez | 77 chances created

Sanchez has had his critics this season due to his reduced goal contribution at both Arsenal and Manchester United, but he has created 77 chances this season,

The Chilean also missed nine games in the Premier League, leaving him with one of the best chances created per minute ratios in the entirety of Europe.

Getty Images

Xherdan Shaqiri | 77 chances created

To make this list at a relegated club is some achievement. Shaqiri created 77 chances for Stoke but they couldn't avoid relegation from the Premier League.

Shaqiri is unlikely to be short of suitors this summer amid expectations he will be sold following Stoke's drop into the Championship.

Getty

Aleksandar Kolarov | 78 chances created

The Serbian has been back to his best this season at Roma, assisting eight goals from left-back and creating 78 chances.

Getty

Philipp Max | 79 chances created

The only Bundesliga to make this list is a left-back.

Phillip Max has assisted 12 goals and created 79 chances this season, with his crossing ability being amongst the best in the world, but it was not enough to earn a place in Germany's provisional World Cup squad.

Getty

Suso | 79 chances created

Former Liverpool attacker Suso has been the main creative outlet for AC Milan this season, creating 79 chances and supplying seven assists in Serie A.

Getty Images

Pascal Gross | 82 chances created

One of the main reasons Brighton managed to survive in the Premier League this season was Pascal Gross, who created 82 chances as Chris Hughton's side finished comfortably clear of the relegation places.

Getty Images

Malcom | 82 chances created

Malcom is certain to be one of the most coveted players this summer as Liverpool and Arsenal both reportedly chase the Bordeaux winger.

He has created 82 chances this season and, at just 21 years old, he could become one of the world's premier talents one day.

Gettyimages

Mathieu Dossevi | 84 chances created

Metz took Dossevi on loan from Standard Liege at the beginning of the season and what a piece of business that turned out to be.

Dossevi has created 84 chances while assisting 11 times this campaign. Metz have an option to buy the midfielder at the end of his loan spell and they will surely be keen to exercise that option.

Eden Hazard | 84 chances created

The first Chelsea player on this list, it goes to show how much the Blues have missed a clinical finisher as the chances have been there for the taking.

Lionel Messi | 86 chances created

There is nothing Lionel Messi can't do on a football pitch. As well as being the top scorer in La Liga, he is also the top creator, making 86 chances for his team-mates this season.

Messi has used his playmaking ability to great effect, chipping in with 12 assists to go alongside his 34 goals.

Getty Images

Luis Alberto | 89 chances created

Luis Alberto has created 89 chances this season, with the former Liverpool man scoring 11 goals for Lazio and setting up 14 in Serie A.

Getty Images

Mesut Ozil | 89 chances created

Mesut Ozil continues to divide opinion and will always appear an easy target for his critics, yet he has created 89 chances for Arsenal this season, providing eight assists and scoring four goals of his own.

Benjamin Bourigeaud | 93 chances created

Bourigeaud created 93 chances for Rennes this season which is good enough for joint-fifth highest in Europe.

The French midfielder also grabbed himself 10 goals this season, and it would be no surprise to see him attract interest from bigger clubs this summer.

Cesc Fabregas | 93 chances created

One of the most supreme talents in the Premier League, Fabregas often finds himself near the top of these lists.

Fabregas only assisted four times this season as Chelsea have been underwhelming this season, but the Spaniard has been creating chances with the same regularity as ever.

Getty

Alejandro Gomez | 93 chances created

Gomez's goalscoring may have slowed down this season but he has more than made up for it with his creation.

He has created 93 chances for Atalanta this season as they battled for a place in the Europa League.

Christian Eriksen | 95 chances created

The Denmark international has pulled all the strings for Tottenham this campaign in creating 95 chances.

Eriksen's vision and accuracy when passing is incredible and, with Harry Kane in front of him, it's no surprise that he managed 10 assists in the Premier League this season.

Getty Images

Lorenzo Insigne | 95 chances created

The Napoli forward has created 95 chances to lead Serie A for creativity, but that's only a small consolation after his side heart-breakingly missed out on winning the league title, with Juventus proving too strong again.

Kevin De Bruyne | 106 chances created

De Bruyne has been Man City's jewel in the crown and he has created the most chances in the Premier League.

He made 106 chances for his team-mates, picking up 16 assists in the league and bagging himself the newly-created Playmaker award.

Getty Images

Dimitri Payet | 121 chances created

Payet may have moved out of the spotlight slightly when he left West Ham but he didn't drop his standards.

The Marseille man has created the most chances in Europe this season and has also notched 20 assists in all competitions.