Premier League
Zowk laments on poor state of Hearts of Oak and Kotoko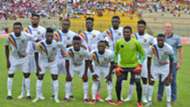 Hearts of Oak former board member Alhaji Fawaz Zowk has hit out at the current leadership of the club, blaming them for the recent poor performance in the Ghana Premier League.
The Phobians have failed to win a major silverware since 2009, losing the FA Cup final to rivals Asante Kotoko last month. Zowk claims they have abandoned their old traditions. 
"Hearts of Oak is a traditional club so if you want to bring on board professionalism, you should make sure that it goes in-line with the laid down tradition. If you remove the traditional aspect from the club, it will become an ordinary club," Zowk told Otec FM.
"This is not the Hearts I used to know. I'm not happy about how things are run in the club currently. The future of Hearts is bleak as the handlers seem to be struggling but I'm ready to help if only I'm called upon.
"Just like Hearts' predicament, Kotoko is also going through such situations. Both Hearts and Kotoko are now ordinary clubs. They draw or lose important games at any time to frustrate their supporters," he added.
Zowk, however, advised Kotoko and Hearts leaderships to go for big stars to strengthen their squad ahead of next season.
"The clubs must target big stars and extraordinary young talents in the country who can bring back supporters to the stadium. They need players who can stand pressure from the supporter and grind results not overhyped players who can't change the misfortunes."
Hearts coach Frank Nuttall is expected to return from holidays next week to begin pre-season.