Ghana
Yeboah reveals why Ghana lost Afcon 1992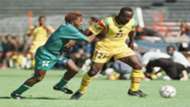 Former Ghana striker Tony Yeboah believes the Black Stars failed to win the 1992 Africa Cup of Nations title due to poor decisions ahead of the final against Cote d'Ivoire.
The Black Stars lost 11-10 on penalties against the Elephants in Senegal, which hosted the tournament.
Following the suspension of Abedi 'Pele' Ayew in the semi-finals through accumulated cards, head coach Otto Pfister was ordered to hand over the captain's armband to Tony Baffoe and it affected the demeanor of the playing body, according to the former Leeds United star.
''Nothing went wrong among the players during the 1992 tournament. It was the officials who were not honest to the players and that affected our performance on the pitch,'' Yeboah told Graphic Sports.
''However, just before the match, our coach Otto Pfister told us in the dressing room that he had just been given a letter from Accra, indicating that the captain's band should rather be given to Tony Baffoe.
''Everybody was shocked to hear that news, so some of the key players were very disturbed and came to console me that I should not worry.
''But I told them not to worry about the treatment meted out to me but rather focus on the match and put up their best.
''There was no transparency and honesty among our officials, and this eventually affected our play on the pitch. In football, any trivial thing can affect a team's performance, and I can say that the action of officials in 1992 was the main cause of our failure to win the trophy for Ghana,'' he added.
Ghana have reached the semi-finals of the Afcon in the last five editions but have failed to lift the trophy.