Manchester City
Why Man City fans still boo the Champions League anthem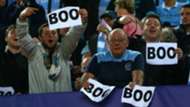 Despite recent calls to forgive and forget, the collective antipathy of Manchester City fans towards UEFA and its flagship club competition shows no signs of abating.
Ask a City fan why they boo the Champions League anthem, and indeed why they have not really taken to the competition in general, and you will be presented with a lengthy rap sheet.
As far back as 2012, with City getting reacquainted with European football in the Europa League, UEFA fined the Blues €30,000 for coming out for the second half of a game "up to 60 seconds later" than scheduled. That came one round after Porto fans were fined €20,000 for racially abusing then City striker Mario Balotelli.
Clearly that did not add up, and, the club feel, neither did UEFA's handling of their finances. City believed they would avoid any Financial Fair Play (FFP) sanctions as they had worked closely with UEFA and met all of its conditions.
Suddenly, however, the goalposts were moved and the club were suddenly £80 million outside the parameters. A hefty fine followed.
The reason? UEFA changed 'Annex XI', a clause that had initially stipulated that wages paid to players signed before 2010 (when FFP did not exist) would not count towards City's books. Crucially, this was after City had submitted their accounts, accounts that would have passed under the previous guidelines.
A sense of injustice began to grow, and that snowballed four months later when fans were shut out of a game with CSKA Moscow, despite many having already booked up their flights and accommodation.
UEFA, three weeks before the match, closed the stadium for three games as punishment for racist chanting. City fans who had made the trip were turned away at the gates, and even barred from an office block that overlooked the stadium, but a crowd of around 650 people – many of them vocal CSKA fans, drinking beer on the terraces (itself a UEFA rule breach) – were let into the ground and watched from the main stand.
City wrote a letter of complaint but UEFA took no action, and the fans who made the trip to Russia felt – and still feel – short-changed.
It was the Moscow incident which sparked the first protest, with the 1894 supporters group urging fans to turn their backs whenever the iconic Champions League anthem was played at the Etihad Stadium. That quickly evolved into the loud booing and whistling that continues to this day.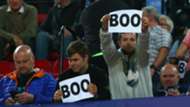 And in the years since City fans have felt no reason to change their minds.
In October 2015, UEFA were forced to investigate the club after one of its delegates noted the booing of the anthem ahead of a home game against Sevilla. To the governing body's credit it did not lead to further sanctions, but the initial stories did nothing to enhance its reputation.
And that December, City were drawn against Dynamo Kiev in the last-16. This time fans already knew that the Ukrainian champions were midway through a stadium closure and did not make any plans to attend the fixture, which was to take place three months later in February.
UEFA then overturned the stadium ban three weeks before the game, meaning it was too late for most supporters to make suitable arrangements. That was regarded as another botch job.
Not that City fans had softened their stance in the intervening two years but there was a fresh incident at the start of this season, perhaps more worrisome than any others.
Private Eye, the British current affairs magazine, detailed an encounter at an awards dinner for football writers in August. Vicky Kloss, a senior figure at City, was confronted and told the club she works for is "an absolute disgrace". The accuser? UEFA's auditor.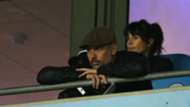 Even so, after the defeat to Lyon a fortnight ago some City fans called for a change in attitude. They argued that the club should now be challenging to win the Champions League, and for that to happen the Etihad should be full and the anthem should not be booed.
They take their cue from Pep Guardiola. As soon as he arrived in 2016 he bemoaned the relatively small attendance for a group game with Borussia Monchengladbach, despite the fact the original fixture had been postponed and then rearranged.
He has complained about the turn-out and atmosphere at several junctures since, including on Saturday when, during an answer about an unrelated topic, he said "Our fans cannot come for the Champions League games but they cannot say we don't deserve to be playing for Man City."
Many fans feel Guardiola oversteps the mark by telling them what to do and how to act, regardless of the success he spear-headed last season. Indeed, there are plenty of City fans who attend all the club's Champions League games, home and away, who do not share the manager's stance.
One section of the City fan-base hopes to embrace UEFA and the Champions League, but they remain a minority. It will be a long time before that changes.