World Cup
Why Cristiano Ronaldo is so special - Soares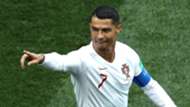 Portugal's reliance on Cristiano Ronaldo is not a problem, according to defender Cedric Soares, as the team should be able to trust 'the best one in the world'.
Ronaldo delivered once more for his nation at the World Cup, scoring with a header in the fourth minute against Morocco to earn a 1-0 victory.
The goal came on the heels of Ronaldo saving a point for Portugal against Iberian rivals Spain, as he delivered a perfect free-kick equaliser to complete his hat-trick in a 3-3 draw in their World Cup opener.
The victory against Morocco put Portugal on four points in Group B and in control of their own fate heading into the group-stage finale against Iran on June 25.
Ronaldo has now scored Portugal's last five goals in the World Cup, dating back to the 2014 tournament in Brazil, and now is the second leading international goalscorer of all time.
However, that is not a problem according to Ronaldo's international team-mate Soares as he believes the Real Madrid star's greatness is exactly why Portugal should go through him.
"Why not?" Soares said when asked if Portugal were reliant on Ronaldo. "You have the best one in the world so you should trust him.
"And he's showing it, that he's with us, he's showing again one more time why he is the best player in the world.
"We are proud to be able to count on him."
What is impressive to Soares about Ronaldo is his efficiency, as the 33-year-old has been able to make the most of his chances thus far in Russia to deliver a huge impact on the tournament. It's a quality the defender does not believe is matched by anyone in the world.
"Normally he has one, max two chances and he scores," Soares said. "That's why he's so special.
"He's the best. And like I said, for us we are very proud to be counting on him every game, to have him on the pitch and to be supporting [him] to be able to score. For us it's fantastic."
In addition, the defender cited Ronaldo's work ethic, as he continues to battle having achieved so much success in his career, as something that can't help but inspire his Portugal team-mates.
"He's our captain," Soares added. "If he's there fighting, definitely you need to fight as well. Because he's won so many things and he's still working every day to be the best.
"That's why he's the best."