Posta Rangers v Gor Mahia
Why a rejuvenated Ze Maria must not let Gor Mahia's bubble burst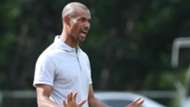 Twelve games, eight wins, two draws and an equal number of loses have seen Gor Mahia take a commanding lead at the apex of Kenyan Premier League table on 26 points leaving other opponents breathing down their neck in a catch-up race.
K'Ogalo's fine start to the league is not by surprise though. No doubt, they have assembled the best playing unit and landed the best that money can probably buy in the transfer market.
Kenyan clubs could face English side Everton in Tanzania
Add that to their quality. Furthermore, it is fair to say they have been punching equal to their weight. Though the campaign is expected not to be a roller-coaster ride similar to the one they had in 2015 when they claimed the gong unbeaten, no one, not even a fool can take away the fact that they are a major cog in the fight for the crown – and by extension – the bookmakers favourite.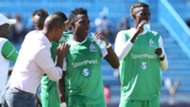 In Brazilian Ze Maria they have a coach, who failed the litmus test after failing to deliver any silverware last term. However, a critical look at his body language tells of a rejuvenated coach out to stake his claim.
Former club's goalkeeping coach, Mathew Ottamax describes him as "a very good coach" and its little wonder that the K'Ogalo machine is roaring again. Granted, the acquisition of lanky box-to-box midfielder Jean-Baptiste Mugiraneza aided by the effort of Ernest Wendo has in one way or the other also helped mop the K'Ogalo midfield.
A look at their attacking talents reveals plenty or deadly arsenal in Jacques Tuyisenge and George 'Blackberry' Odhiambo – who are all proven goal poachers. There is also the reincarnated Meddie Kagere, who has so far scored four goals this campaign which will also count.
Posta Rangers v Gor Mahia change venue for third time
Should he maintain his fair run in the face of goal then, Gor Mahia, could go all the way to claim the title. Returnee Timothy Otieno, recalled after the lapse of his loan spell at Posta Rangers will also inject another attack outlet at Gor Mahia and it explains why the K'Ogalo nation could dance their way to another league trophy.
The wind is all blowing favourably for them and coach Ze Maria must not let the bubble burst, not at his doorstep.