UEFA Europa League
Who is Davy Klaassen? The Ajax captain tipped to be a Manchester United success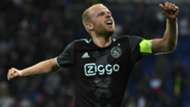 ---
COMMENT
---
Davy Klaassen will emulate the likes of Johan Cruyff, Piet Keizer and Danny Blind on Wednesday by donning the captain's armband for Ajax in a European final. As a homegrown star and champion, he is the embodiment of the club's traditions and the ideal man to lead them out onto the grand stage for the first time in 20 years when they take on Manchster United in the Europa League final.
Furthermore, the occasion could be the fitting end to his era at the Dutch giants.
WATCH: Mou's 17-second interview
With stars Hakim Ziyech, Kasper Dolberg and Davinson Sanchez among others in their first season in Amsterdam, there may be even more to come from this squad beyond their blistering rise under coach Peter Bosz. However, they will likely have to continue the journey after the final without their captain.
With 14 goals and nine assists in the Eredivisie this term and a further two in the Europa League, Klaassen is having his most prolific season in a young side that has defied expectation.
After five and a half years in the first team, he looks ready for a move away, and according to club legend Sjaak Swart, he should be aiming high.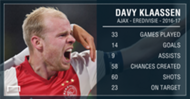 "He can play for Arsenal and Liverpool. At the moment, he would definitely succeed at Manchester United as well," he said last week. "There are a lot of clubs suitable for Klaassen, in Germany too. I think [he would cost] somewhere between €20-25 million."
It shows just how far he has come since joining his dream club at the age of 11. He stood out as he rose through the youth system to captain the Under 19s to the league title in May 2012, but by then it was clear his future was in the first team.
As he emerged from the bench for the first time against NEC in November 2011, the fans were already singing his name to the tune of Yellow Submarine. Within seconds, he took on a pass, evaded a tackle and slotted into the net to follow in the footsteps of the likes of Cruyff, Patrick Kluivert and Marco van Basten in getting a debut goal for the capital club. In the following months, he featured against Real Madrid, Lyon and Manchester United in Europe.
The next season started well, with Klaassen jumping between leading the U-19s and coming off the bench for Frank de Boer's side. Catastrophe struck in August, though, in the form of a groin strain which proved complicated when an MRI scan showed there was fluid in his bone. It kept him out for the entire season. At the recommendation of Cruyff, he visited a specialist in Barcelona, where the football icon even paid him a visit.
Despite the setback, Klaassen seemed destined to be a regular in the senior side. When the 2013-14 season kicked off, his target was to get fit again, but Klaassen was given a chance after the sale of Christian Eriksen left Ajax bereft of creativity. He scored on his maiden start – a 3-0 win over Utrecht in October, then he scored six in his next five appearances in the first XI, including a hat-trick against NAC Breda. It was a varied treble – first knocking it to Lasse Schone and running through to receive the return pass in space and lash home, then a volley at the back post before a lovely touch to control a high ball and set himself up for a fine finish. The comparisons to Dennis Bergkamp, one of his coaches, increased and from then on, he was never out of the team.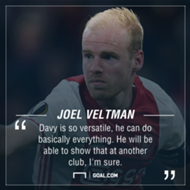 Months after that hat-trick, he made his debut for the national team, and ended the title-winning season as Ajax's joint-top league goalscorer with 10 goals. He was named the team's Player of the Year, and won the national Johan Cruyff Prize for Talent of the Year, too.
He moved to a deeper role than his usual attacking midfield one in 2014-15, using his intelligent passing and keen eye for space to score six goals and set up nine as Ajax finished second in the league to PSV.
Man Utd hits 100 Premier League scorers
According to Cruyff, he shared similarities to the best around, as he wrote in Voetbal International: "You must have strong positioning, ability to control the ball at speed and also have the technique to deal with the speed of it. Xavi, Toni Kroos and Davy Klaassen can do it. All three have perfect anticipation and they can play it both left and right excellently. You watch, when Klaassen plays from that position for Ajax, the tempo increases immediately. Moreover, he rarely loses possession."
Though he filled a key role after Eriksen's departure, he was not the creative force they needed and Ajax's stale style toward the end of De Boer's reign saw his influence in their build up diminish. Still, he proved incredibly efficient as he scored 13 and got eight assists and combined well with 21 goal striker Arkadiusz Milik last season.
Klaassen is quick of mind and has sound technique, and it combined well with his refined timing and vision to help him become such a consistently effective player.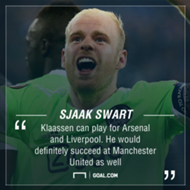 "He has an understanding of football," De Boer said in his last season in charge. "He reads how a situation will go faster than most. He is an extension of us, the coaches."
Klaassen explained that part of his game in 2014, telling Algemeen Dagblad: "It has to do with assessing space, knowing where the enemies are, a sense of logical thinking and solving things."
Joel Veltman described it further to VI: "He has a certain instinct, he always knows where the space is and where the ball will fall. A ball drops, bam, there he is again. That's a real quality, watch again how often he picks up the second balls in a game, so we can attack again.
"Davy is so versatile, he can do basically everything. He will be able to show that at another club, I'm sure. His perseverance is always 150 percent, so that's a good base if he takes on a new adventure."
Now, he needs to take those abilities and refine them further at a higher level.
Having spent most of his life at Ajax, Klaassen has evolved from a promising but timid player to an all-round excellent midfielder and true leader. Another impressive display against Jose Mourinho's men will enhance his stature in Europe, and simultaneously help cement his place as an Ajax legend.