NPFL
We won't write Abia Warriors off, says Plateau United's James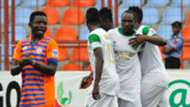 Plateau United's Emmanuel James has disclosed that his side will not underestimate Abia Warriors when both teams meet on Sunday in Umuahia.
Having crushed Gombe United 5-1 to consolidate their position atop last Sunday, the Jos-based player believes with determination they can subdue their hosts and avoid a slip.
"We have nothing to worry about going to Umuahia but our hope is to get a good result," James told Goal.
"Our coach (Kennedy Boboye) has not told us much ahead of the match but the only message was for us to focus and show our determination.
"It is not going to be easy. As the leaders, everybody - the remaining 19 teams in the league will want us down. We have to work hard to get something in Umuahia.
"Our target is the three points. With God on our side, I'm sure we can get a victory. It will be tough but I'm confident we will excel.
"We won't underrate them. There a good side, even though things are not working out for them the way the want but we won't write them off."